A new product was released today from the United States Mint which contains three versions of the first coin issued in the America the Beautiful Quarters® Program.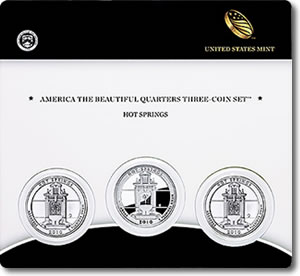 The new release, the Hot Springs Quarter Three-Coin Set, contains uncirculated Hot Springs National Park quarters from the U.S. Mint's facilities in Philadelphia and Denver, and one proof quality quarter from the San Francisco Mint.
The Mint has placed a price of $13.95 on each set, plus the standard shipping and handling charge of $4.95 per order.
"The coins are mounted on a durable plastic card and include a brief description of the site and the coin design, as well as a Certificate of Authenticity on the back," states the Mint in describing the set.
Each coin represents the inaugural strikes from the new quarter program. The series will include a total of fifty-six new quarter dollars when completed in 2021, with one 25-cent piece representing a site of national interest from each state, the District of Columbia and the five US Territories.
Additional Three-Coin sets containing the subsequent 2010 America the Beautiful Quarters representing Yellowstone National Park, Yosemite National Park, Grand Canyon National Park and Mound Hood National Forest will be released by the Mint in 2011.
Hot Springs quarters were originally released into circulation on April 19, 2010. The coins represent and honor Hot Springs National Park which is located in the state of Arkansas. Of the complete list of fifty-six sites to be honored by the America the Beautiful Quarters Program, Hot Springs has the distinction of being the first to come under direct federal control. A fact that placed it at the top of the list when it came to the release order of the coins.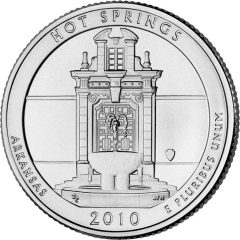 The reverse of each Hot Springs coin contains an image of the facade of the National Park headquarters building, complete with a thermal fountain shown in front of it. It was designed by United States Mint Sculptor-Engraver Don Everhart and sculpted by Sculptor-Engraver Joseph Menna. Also shown are the inscriptions HOT SPRINGS, ARKANSAS, 2010 and E PLURIBUS UNUM.
A portrait of George Washington, the first President of the United States, is included on the obverse of all of the strikes of the America the Beautiful Program. It was first featured on the circulating 1932 quarter-dollar and was designed by John Flanagan. Inscriptions include UNITED STATES OF AMERICA, LIBERTY, IN GOD WE TRUST and QUARTER DOLLAR.
The Hot Springs Quarter Three-Coin Set may be ordered from the United States Mint website (http://www.usmint.gov), or its toll free number 1-800-USA-MINT (872-6468).
Two other new coin sets featuring the five 2010 quarter-dollars will be issued on Friday and Monday.