Iowa is the latest state highlighted in the United States Mint's America the Beautiful Quarters® Program with a coin commemorating its Effigy Mounds National Monument.
The newest 25-cent piece launched today, Feb. 6, 2017, and is available in 40-coin rolls and 100-coin bags. The rolls and bags contain circulating quality Effigy Mounts quarters that are made at U.S. Mint's facilities in Philadelphia, Denver and San Francisco.
Designs on Effigy Mound Quarters
The U.S. Mint presented thirteen design candidates as possibilities for the coin's reverse (tails side). These were reviewed by parties of the site, the Commission of Fine Arts and the Citizens Coinage Advisory Committee.
The winning design was tweaked and showcases an aerial view of mounds in the Marching Bear Group. (See high-resolution photos of the design.)
Reverse inscriptions include "EFFIGY MOUNDS," "IOWA," "2017," and "E PLURIBUS UNUM." United States Mint Artistic Infusion Program (AIP) Designer Richard Masters designed the image with sculpting completed by United States Mint Sculptor-Engraver Renata Gordon.
In the following U.S. Mint video, Gordon talks about her process of sculpting the design:
Portrayed on the coin's obverse (heads side) is an effigy of George Washington, the first President of the United States. This portrait is, and will be, found on the obverse of all America the Beautiful Quarters. John Flanagan designed the portrait that started circulating on quarters in 1932.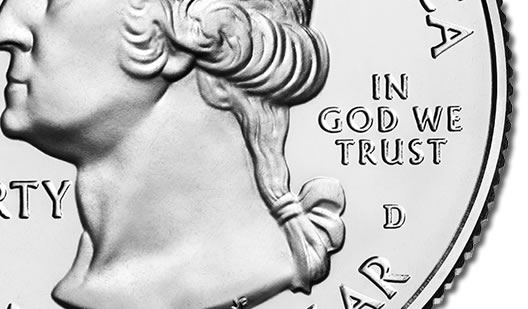 Mintmarks of 'P', 'D' or 'S' are also on obverses, corresponding to production facilities of Philadelphia, Denver or San Francisco.
Quarter Dollar Products
Prices for roll and bag products remain the same as last year's issues and are as follows:
| Product | US Mint Production Facility | Price |
| --- | --- | --- |
| 40-coin rolls | San Francisco | $18.95 |
| Two-roll sets | 40 Philadelphia & 40 Denver coins | $32.95 |
| Three-roll sets | San Francisco, Philadelphia, & Denver | $46.95 |
| 100-coin bags | San Francisco | $34.95 |
| 100-coin bags | Philadelphia | $34.95 |
| 100-coin bags | Denver | $34.95 |
Of note, while all coins are made in circulation quality, they have never actually been issued into circulation.
Exclusivity of S-Mint Quarters
Today, the Federal Reserve also started distributing new Effigy Mounds quarters to financial institutions. They, however, are from the Denver and Philadelphia Mints. The San Francisco Mint only produces quarters for numismatic purposes such as for these rolls and bags. You will not find S-Mint quarters in change.
Ordering, Coin Forum, Ceremony and Coin Exchange
To order the coin rolls and bags, visit the U.S. Mint's online store, found here. You may also order by calling 1-800-USA-MINT (872-6468).
Later today, officials from the U.S. Mint will host a special coin forum. Beginning at 5:30 p.m. and scheduled to last about an hour, the forum is at the Effigy Mounds National Monument Visitor Center.
Tomorrow, Feb. 8, an official launch ceremony will introduce the coin. The ceremony is at the Allamakee Community School District High School Gym in Waukon, IA and begins at 10:00 a.m. After the ceremony, attendees can exchange cash for D-rolls of the new coin.
2017 America the Beautiful Quarters
The Effigy Mounds quarter marks the first of five in the ATB series for this year and the thirty-sixth since the program started in 2010.
Upcoming 2017 quarter-dollars honor District of Columbia's Frederick Douglass National Historic Site, Missouri's Ozark National Scenic Riverways, New Jersey's Ellis Island National Monument and Indiana's George Rogers Clark National Historical Park.