Rolls and bags of the newest release from the United States Mint program of America the Beautiful Quarters became available today, August 29. This one commemorates Theodore Roosevelt National Park by featuring a design emblematic of the site in North Dakota.
Options include Theodore Roosevelt quarters struck in the Philadelphia, Denver and San Francisco Mints. In addition to easily collecting quarters from all three facilities with each bearing distinct mintmarks, the products offer buyers an opportunity to get them in a timely fashion — it usually takes many months for new quarter designs to show up locally in change.
Designs on Theodore Roosevelt National Park Quarters
Six different design candidates for the quarter's reverse were submitted for review before the final one was selected.
The winning design depicts Roosevelt as he might have appeared on horseback surveying the landscape near the Little Missouri River.
Inscriptions around the image include THEODORE ROOSEVELT, NORTH DAKOTA, 2016 and E PLURIBUS UNUM. Joel Iskowitz created the design and Phebe Hemphill sculpted it. In the U.S. Mint video below, Hemphill talks about working on the coin.
America the Beautiful Quarters share an obverse portrait of the first President of the United States, George Washington. The likeness by John Flanagan has appeared on quarter dollars since 1932.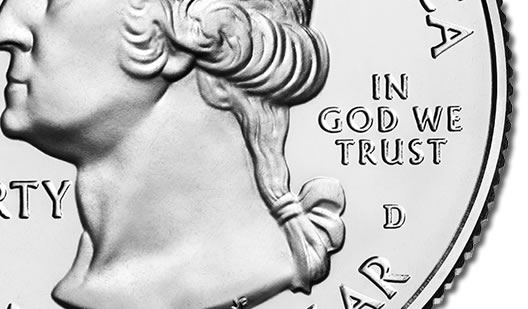 Mintmarks of 'P', 'D' or 'S' are also found on obverses designating their production facility of Philadelphia, Denver or San Francisco.
Quarter Products
Those interested may buy the new quarters in options of 40-coin rolls and 100-coin bags. The following table shows the available products and their prices:
| Quarter Product | US Mint Production Facility | Price |
| --- | --- | --- |
| 40-coin rolls | San Francisco | $18.95 |
| Two-roll sets | 40 Philadelphia & 40 Denver coins | $32.95 |
| Three-roll sets | San Francisco, Philadelphia, & Denver | $46.95 |
| 100-coin bags | San Francisco | $34.95 |
| 100-coin bags | Philadelphia | $34.95 |
| 100-coin bags | Denver | $34.95 |
As an added note, Philadelphia and Denver Mints produce all U.S. coins for general circulation. The San Francisco Mint, however, only strikes coins for sale in collector products. 'S' quarters will not show up in circulation.
Ordering
The U.S. Mint's online store, found here, is the best place to buy new quarters. Use 1-800-USA-MINT (872-6468) to order them by phone.
This coin marks the thirty-fourth in the series of the America the Beautiful Quarters, a program that debuted in 2010 and honors sites of national interest throughout the United States and its territories.
Earlier 2016 quarters showcase designs commemorating Shawnee National Forest of Illinois, Cumberland Gap National Historical Park of Kentucky and Harpers Ferry National Historical Park of West Virginia. The final quarter for this year honors Fort Moultrie of Fort Sumter National Monument in South Carolina. Rolls and bags of them are due for release in November.