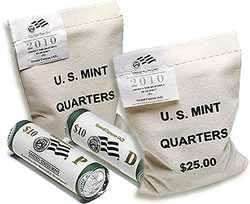 The United States Mint today at noon ET began selling bags and rolls of 2010 Grand Canyon National Park Quarters.
The coins are the fourth release in the debuting America the Beautiful Quarters™ Program which will feature at least 56 different designs that honor national parks and other national sites at a rate of five each year until 2021.
Grand Canyon Quarter bags are available for a price of $35.95 while Grand Canyon Quarter two-roll sets cost $32.95.
"The bags and rolls contain coins that were struck on the main production floors of the United States Mint facilities at Denver and Philadelphia for use in general circulation," the US Mint describes. "The two-roll set includes one roll each of 40 coins-one each bearing the 'P' and 'D' mint marks-wrapped in distinctive packaging displaying the name of the national park or site, state abbreviation, mint of origin, and '$10', the face value of its contents. A tag is attached to each 100-coin bag denoting the mint of origin, name of the national park or site, and the state abbreviation."
Grand Canyon Park quarters launched into circulation today as well, with Federal Reserve Banks fulfilling order requests from local banks throughout the nation.
The quarter's reverse, designed and sculpted by Phebe Hemphill, features a view of the granaries above the Nankoweap Delta in Marble Canyon near the Colorado River. Inscriptions include GRAND CANYON, ARIZONA, 2010 and E PLURIBUS UNUM.
The design featured on the coin's obverse is the 1932 portrait of George Washington by John Flanagan, restored to bring out subtle details and the beauty of the original model. Inscriptions include UNITED STATES OF AMERICA, LIBERTY, IN GOD WE TRUST and QUARTER DOLLAR.
An official quarter ceremony will actually occur tomorrow, September 21, at 1:30 p.m. (MST), on the park's South Rim, between Hopi House and Verkamp's Visitor Center. Children 18 years old and younger in attendance will receive a free quarter-dollar while others may exchange cash for rolls of the coins.
The ceremony will be broadcast live on the web at: http://www.americathebeautifulquarters.gov/. The stream will be available at 1:25 p.m. (MST).
Additionally, a coin forum will be held tonight at 5:00 PM. United States Mint Director Ed Moy will host the forum, as he discusses and answers questions about current and upcoming coin issues. The forum will be held at Grand Canyon National Park, Grand Canyon Railway Depot, at the base of the El Tovar Hill.
Grand Canyon National Park Quarter bags and rolls may be ordered from the United States Mint website (http://www.usmint.gov/), or its toll free number 1-800-USA-MINT (872-6468).
The final 2010 America the Beautiful Quarter will be available in November and features Mount Hood National Forest in Oregon.