Visitors to Hot Springs National Park in Arkansas on Tuesday, April 20, can help in celebrating its 178th anniversary and participate in the ceremonial release of the first coin in the America the Beautiful Quarters™ Program.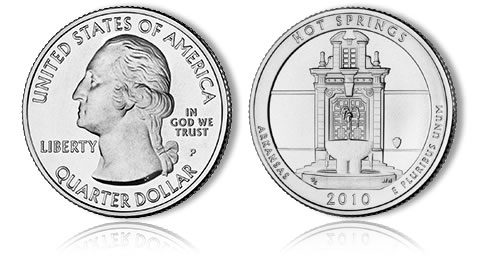 2010 Hot Springs National Park Quarter – Obverse and Reverse
The United States Mint will join National Park Service (NPS) officials in launching the Hot Springs National Park Quarter in a ceremony in front of the park's Administration Building at 10 AM CT.
Children 18 and under in attendance will receive a new quarter for free, while adults may exchange cash for $10 rolls of the coins immediately following the event, which is expected to last under one hour. There is a stated $100 limit per person for the exchange, but final amounts are often determined by how many quarter rolls are on hand and how many people stand in line to exchange.
The new 25c piece, the first in a series of 56 to honor National Parks and other National Sites through to 2021, features a reverse design depicting the Hot Springs National Park headquarters building in the background and an image of the park's fountain in the foreground. The headquarters was built in the Spanish colonial revival style and completed in 1936. The NPS emblem is shown to the right of the door.
The reverse was designed by United States Mint Sculptor-Engraver Don Everhart and sculpted by Sculptor-Engraver Joseph Menna.
The obverse or heads side of each quarter-dollar remains unchanged, depicting George Washington.
Park Quarters in Rolls and Bags
For those who can not attend the ceremony or coin exchange, the U.S. Mint is offering quarter rolls and bags beginning at noon Eastern Time on April 19 — a day before the official release event.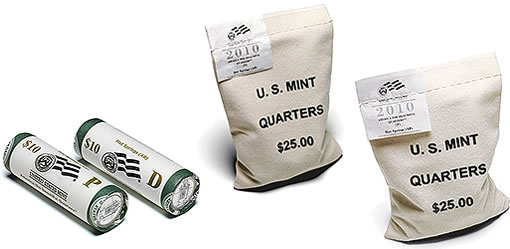 2010 Hot Springs National Park Quarter Rolls and Bags
Special Mint wrapped two-roll sets are available for $32.95. One set contains 80 coins, with 40 minted from Denver bearing "D" mint marks and another 40 struck from Philadelphia and featuring "P" mint marks.
100-coin bags will be available as well. These are priced for $35.95, with the buyer having the option to purchase Philadelphia and/or Denver coin-filled bags.
Orders may be placed on the Mint's Web site at http://www.usmint.gov/catalog, or at the toll-free number, 1-800-USA-MINT (872-6468). Hearing and speech-impaired customers may order by calling 1-888-321-MINT (6468).
Coin Forum Before Ceremony
On the evening prior to the ceremony, US Mint Director Ed Moy will host a public coin forum that begins at 5 PM CT. It will be held at the Quapaw Bath House,
413 Bathhouse Row,
Hot Springs, Arkansas, 71901.
Coin forums last about an hour, and offer coin collectors and enthusiasts a chance to ask questions and learn about upcoming coins and Mint events.
According to the NPS, Hot Springs Reservation was created by Congress with the signature of President Andrew Jackson on April 20, 1832. As such, it is the oldest American national site and the reason it is honored first in the new quarter series that will feature one site from each state, D.C. and U.S. Territories. In terms of National Parks, Hot Springs is 18th from the top, having been named the Hot Springs National Park on March 4, 1921.
The Hot Springs release will be followed up later this year with quarter-dollars honoring Yellowstone National Park in Wyoming, Yosemite National Park in California, Grand Canyon National Park in Arizona and Mt. Hood National Forest in Oregon. (See 2010 America the Beautiful Quarters Release Dates.)
Also to come beginning in late summer will be silver bullion quarter-dollar coins that are duplicates of each 2010 America the Beautiful Quarter. These .999 fine silver coins will have a 3-inch diameter and weigh 5 ounces. The Mint has named the series featuring the coins the America the Beautiful Silver Bullion Coin™ Program.
About the U.S. Mint
The United States Mint, created by Congress in 1792, is the Nation's sole manufacturer of legal tender coinage. Its primary mission is to produce an adequate volume of circulating coinage for the Nation to conduct its trade and commerce. The United States Mint also produces proof, uncirculated and commemorative coins; Congressional Gold Medals; and silver, gold and platinum bullion coins.