The United States Mint on Monday started selling rolls and bags of America the Beautiful Quarters commemorating Shawnee National Forest in Illinois. This quarter features the first of the five designs for 2016 and marks the 31st release since the series began in 2010.
Shawnee quarters also entered circulation on Monday but don't expect to see them there any time soon. Banks cannot order quarters by design or from a specific minting facility, so there's no telling how long it'll take for new ones to show up in change. You'll pay a premium, but ordering from the U.S. Mint is the quickest way to get them in large quantities and from all the facilities that make them.
Public launch ceremonies are another option to get new coins quickly. The U.S. Mint will join the National Forest Service to ceremoniously introduce the new quarter on Thursday, Feb. 4. The event will be held at the Southeastern Illinois College Deaton Gymnasium in Harrisburg, IL. While there, attendees can swap cash for rolls of newly minted Shawnee National Forest quarters.
Quarter's Designs
Six quarter candidate designs went under review before the final one was selected. All of them depicted scenes emblematic of the national forest. Camel Rock, the most popular and iconic rock formation in Shawnee National Forest, was prominent among three of them.
Designed by Justin Kunz and sculpted by Jim Licaretz, the winning reverse or tails side design shows a close view of Camel Rock with natural vegetation in the foreground and a red-tailed hawk soaring in the sky overhead.
Inscriptions around the scene are SHAWNEE, ILLINOIS, 2016 and E PLURIBUS UNUM. Licaretz briefly discusses the design in this U.S. Mint video:
America the Beautiful Quarters share obverse (heads side) designs of John Flanagan's portrait of George Washington. Surrounding inscriptions read, UNITED STATES OF AMERICA, LIBERTY, IN GOD WE TRUST and QUARTER DOLLAR.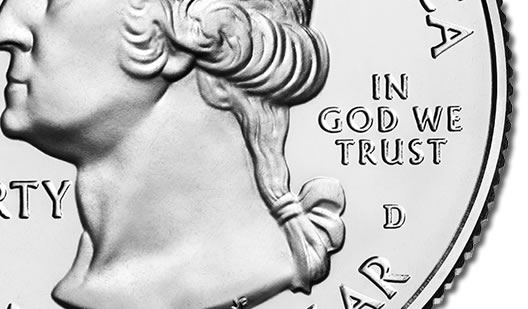 Obverses also bear a mint mark of 'P', 'D' or 'S' to notate their production in either Philadelphia, Denver or San Francisco.
Quarter Products
Quarters commemorating Illinois's Shawnee National Forest are available in products that include 40-coin rolls and 100-coin bags with options of where they were made.
There are single rolls from the San Francisco Mint, a two-roll set from the Denver and Philadelphia Mints, and a set of three rolls with one from each plant. 100-coin bags are also available individually from the three locations. Here is a listing of the available products and their prices:
| Quarter Product | US Mint Striking Facility | Price |
| --- | --- | --- |
| 40-coin rolls | San Francisco | $18.95 |
| Two-roll sets | 40 Philadelphia & 40 Denver coins | $32.95 |
| Three-roll sets | San Francisco, Philadelphia, & Denver | $46.95 |
| 100-coin bags | San Francisco | $34.95 |
| 100-coin bags | Philadelphia | $34.95 |
| 100-coin bags | Denver | $34.95 |
The quarters produced in the Denver and Philadelphia Mints will eventually make their way into change. That is not the case for those made in San Francisco. San Francisco quarters are produced only for coin collectors and the U.S. Mint is the single originating source to get them. Also, see photos of a proof Shawnee quarter, a unique edition struck for annual proof sets and only for coin collectors.
Ordering
Shawnee quarters are available from the U.S. Mint's website at www.usmint.gov. Here's a link to the Mint's quarter products. Call in orders using 1-800- USA-MINT (872-6468).
America the Beautiful Quarters
The U.S. Mint in 2010 introduced the first coin from its series of America the Beautiful Quarters, and has issued five every year since then.
Upcoming 2016 quarters honor Cumberland Gap National Historical Park in Kentucky, Harpers Ferry National Historical Park in West Virginia, Theodore Roosevelt National Park in North Dakota, and Fort Moultrie in South Carolina.
The series is scheduled to end in 2021 after a quarter has been issued to commemorate a national site in all 50 states, D.C. and the five U.S. territories.