At noon today, April 20, the United States Mint released circulating-quality Kisatchie quarters, the second of the five America the Beautiful Quarters for 2015 and the 27th in the series overall. Commemorating the national forest in Louisiana, the quarters are now available in U.S. Mint-branded rolls and bags.
Although Kisatchie quarters launched into circulation back on April 13, many collectors will buy them from the Mint because there's a lot of chance and time involved in finding quarters of a certain design in change.
Kisatchie National Forest Quarter Design
Before the image for the Kisatchie quarter was selected, a total of 8 candidate designs went under review. Seven of them, including the winning design, prominently depicted birds.
Created by Susan Gamble and sculpted by Joseph Menna, 2015 Kisatchie National Forest Quarters show a wild turkey flying over blue stem grass with long leaf pine trees in the background. Completing the design are encircling inscriptions of KISATCHIE, LOUISIANA, 2015 and E PLURIBUS UNUM.
The obverse of the coin has John Flanagan's portrait of George Washington, which is common to all America the Beautiful Quarters. Surrounding the likeness are inscriptions reading UNITED STATES OF AMERICA, LIBERTY, IN GOD WE TRUST and QUARTER DOLLAR.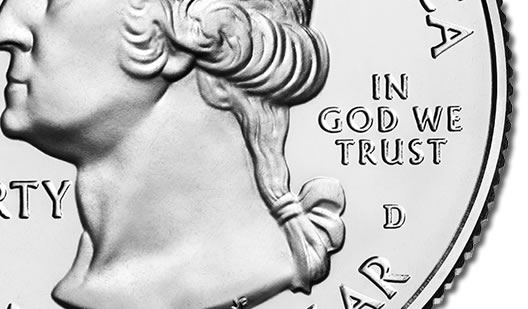 Also appearing on this side is a mint mark of "P," "D" or "S" to notate that the coin was struck in Philadelphia, Denver or San Francisco.
Kisatchie National Forest Quarter Product Options
New Kisatchie quarter products include 40-coin rolls and 100-coin bags with options of where they originated. 40-coin rolls are available as one roll from the San Francisco Mint, a two-roll set from the Denver and Philadelphia Mints or a set of three rolls, one from each facility. 100-coin bags are available individually from the three locations. This chart will help make sense of it all:
| Quarter Product | US Mint Striking Facility | Price |
| --- | --- | --- |
| 40-coin rolls | San Francisco | $18.95 |
| Two-roll sets | 40 Philadelphia & 40 Denver coins | $32.95 |
| Three-roll sets | San Francisco, Philadelphia, & Denver | $46.95 |
| 100-coin bags | San Francisco | $34.95 |
| 100-coin bags | Philadelphia | $34.95 |
| 100-coin bags | Denver | $34.95 |
Quarters from Denver and Philadelphia will eventually make their way into change. That will not happen with those from San Francisco since they are made only for collectors.
Ordering Information
Those who are interested in any of the above products can order them by going to the United States Mint's website at www.usmint.gov. Here's a link to the Mint's quarter products. Use 1-800- USA-MINT (872-6468) for phone orders.
About America the Beautiful Quarters
Honoring national parks, national forests and other national sites around the United States, the program of America the Beautiful Quarters kicked off in 2010 and has seen five quarters each year.
The Homestead National Monument of America quarter was the first one issued this year. The quarters that have yet to be released this year will honor Blue Ridge Parkway in North Carolina, Bombay Hook National Wildlife Refuge in Delaware and Saratoga National Historical Park in New York.
Look here for quarter news about past releases.
The program is scheduled to release 29 more coins and wrap-up in 2021 when a national site has been honored in all 50 states, the District of Columbia and the five territories of the United States.