Earlier today, June 6, the United States Mint started selling rolls and bags of quarters commemorating Harpers Ferry National Historical Park in West Virginia. This coin carries the third of five unique quarter designs for 2016 and is the 33rd issued since the start of the America the Beautiful Quarters series.
Harpers Ferry quarters are also entering circulation this month, but don't expect to find them soon because the Federal Reserve distributes coins to banks without regard to their designs. Ordering new ones straight from the U.S. Mint is the quickest way to get them.
Quarter's Designs
Eight Harpers Ferry quarter candidate designs went under review before a final one was selected.
The winning design depicts John Brown Fort, the site of John Brown's last stand during his raid on the Harper's Ferry Armory in 1859.
United States Mint Artistic Infusion Program (AIP) artist Thomas Hipschen created the image and United States Mint Sculptor-Engraver Phebe Hemphill engraved it. In the short U.S. Mint video below, Hemphill briefly discusses her process of sculpting the quarter's design.
All America the Beautiful Quarters share the obverse portrait of President George Washington by John Flanagan.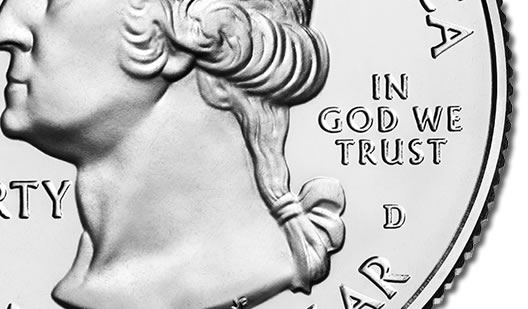 Mint marks of 'P', 'D' or 'S' are also found on the obverse to indicate their production facility of Philadelphia, Denver or San Francisco.
Quarter Products
40-coin roll and 100-coin bag products are available. Options include quarters struck at U.S. Mint facilities in San Francisco, Philadelphia and Denver. The following table shows the new products and their prices:
| Quarter Product | US Mint Production Facility | Price |
| --- | --- | --- |
| 40-coin rolls | San Francisco | $18.95 |
| Two-roll sets | 40 Philadelphia & 40 Denver coins | $32.95 |
| Three-roll sets | San Francisco, Philadelphia, & Denver | $46.95 |
| 100-coin bags | San Francisco | $34.95 |
| 100-coin bags | Philadelphia | $34.95 |
| 100-coin bags | Denver | $34.95 |
Philadelphia- and Denver-minted quarters are released into general circulation. Those struck in San Francisco, however, are only produced for numismatic purposes for products like these rolls and bags.
Ordering
The U.S. Mint's online store, located here, is the best place to buy new quarters. Use 1-800-USA-MINT (872-6468) to order them by phone.
Release Ceremony and Coin Forum
An official quarter launch ceremony is scheduled for Wednesday, June 8, at Lower Town in Harpers Ferry. Following the ceremony, attendees can exchange cash for rolls of the new coin. In addition, a U.S. Mint coin forum will be hosted on the evening before the ceremony. Learn more about these events.
America the Beautiful Quarters
The United States Mint introduced its series of America the Beautiful Quarters in 2010 and has issued 5 of them every year since, with each honoring a different site of national interest.
For 2016, the program includes coins to commemorate:
Shawnee National Forest of Illinois (released February 2)
Cumberland Gap National Historical Park of Kentucky (released April 4)
Harpers Ferry National Historical Park of West Virginia (this release)
Theodore Roosevelt National Park of North Dakota (released in August)
Fort Moultrie (Fort Sumter National Monument) of South Carolina (released in November)
Fifty-six quarters are scheduled for the program with one site honored from each state, the District of Columbia and the five U.S. territories.