The United States Mint today at noon ET began selling bags and rolls of Hot Springs National Park Quarters, the first coin issue in the U.S. Mint's America the Beautiful Quarters Program and the inaugural quarter-dollar in 2010.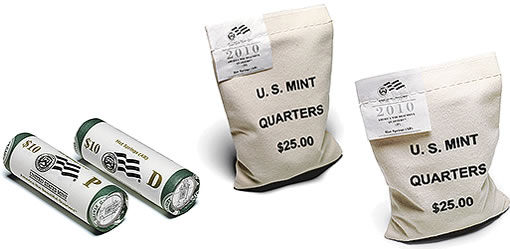 2010 Hot Springs National Park Quarter Rolls and Bags
The offering kicks off the first of a series of events this week featuring the quarter, with its official ceremonial release tomorrow morning at 10 a.m. CT being the most prominent. The ceremony will be held at the park on its 178th birthday.
Designed by Don Everhart and sculpted by Joseph Menna, the reverse quarter image features the Hot Springs National Park headquarters building with a fountain in the foreground.
The two-roll sets includes 80 circulation strike quarter-dollars, with one roll containing 40 coins with the Philadelphia "P" mint mark and the other roll with the Denver "D" mint mark. The set is priced at $32.95.
The 100-coin bags contain circulation strikes of the quarters minted in Philadelphia or Denver. At a $35.95 price, the premiums for each bag is $10.95.
The Mint sells the Hot Springs National Park Quarter bags and rolls directly at its Web site (http://www.usmint.gov/). They are also available through the toll free number 1-800-USA-MINT (872-6468).
America the Beautiful Quarters will be minted until at least 2021. At a rate of five per year, the reverse side of quarter-dollars will feature design themes honoring 48 National Parks, two U.S. Fish and Wildlife sites, and six U.S. Forest Service sites. One site from each U.S. state and territory and the District of Columbia has already been selected.
The remaining quarter launches for 2010 will honor Yellowstone National Park in Wyoming (June 1, 2010), Yosemite National Park in California (July 26, 2010), Grand Canyon National Park in Arizona (September 20, 2010) and Mount Hood National Forest in Oregon (November 15, 2010).