Today, May 18, the United States Mint released rolls and bags containing the latest 25-cent coin from their America the Beautiful Quarters® Program. The quarter honors Weir Farm National Historic Site of Connecticut. In addition, the U.S. Mint's companion Weir Farm America the Beautiful Five Ounce Silver Uncirculated Coin™ also launched today.
Quarter options include 40-coin rolls, 2-roll sets, 3-roll sets and 100-coin bags of circulation quality coins taken directly from the production floors of the Philadelphia, Denver and San Francisco Mints. Five ounce silver coins are produced only at the Mint's Philadelphia facility.
While their sizes differ greatly, both quarter and coin share the same basic designs featuring Weir Farm. The national site consists of over 60 acres of painterly woods, fields, and waterways surrounding the former home and studio of American Impressionist painter, J. Alden Weir. The site was established in 1990.
Weir Farm National Historic Site Coin Designs
Formally unveiled in August of 2019, Weir Farm National Historic Site coins offer a reverse design created by Justin Kunz and sculpted by Phebe Hemphill. Taking inspiration from the rural environment of the historic site and the many artists who worked there, the design shows a painter wearing a painter's smock outside of Julian Alden Weir's studio at Weir Farm.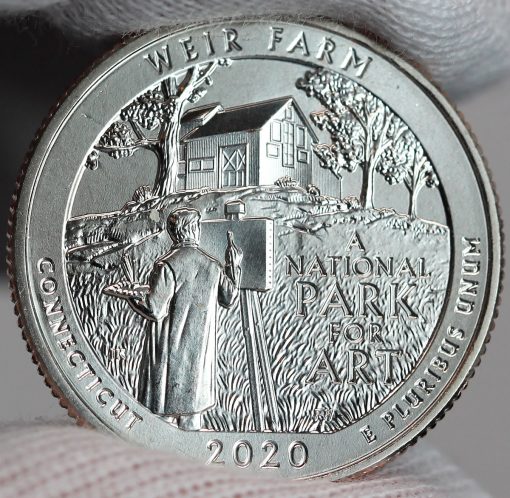 Inscriptions around the design include "A NATIONAL PARK FOR ART," "WEIR FARM," "CONNECTICUT," "2020" and "E PLURIBUS UNUM."
In the following U.S. Mint video, Kunz and Hemphill talk briefly about their work on the coin.
All coin obverses (heads side) from the America the Beautiful series portray a likeness of the first President of the United States, George Washington. The portrait was originally designed by John Flanagan and has appeared, with a few changes, on circulating quarter dollars since 1932.
Obverse inscriptions include "UNITED STATES OF AMERICA," "LIBERTY," "IN GOD WE TRUST," and "QUARTER DOLLAR." Quarter obverses also bear a mintmark of 'P' for the Philadelphia Mint, 'D' for the Denver Mint or 'S' for the San Francisco Mint. Five ounce silver uncirculated coins just feature the 'P' mintmark as they are only produced at the Philadelphia Mint.
Quarter Roll and Bag Products
Product options for the quarter are:
| Product | US Mint Production Facility | Price |
| --- | --- | --- |
| 40-coin rolls | San Francisco | $19.75 |
| Two-roll sets | 40 Philadelphia & 40 Denver coins | $34.50 |
| Three-roll sets | 40 San Francisco, 40 Philadelphia, & 40 Denver | $49.25 |
| 100-coin bags | San Francisco | $36.75 |
| 100-coin bags | Philadelphia | $36.75 |
| 100-coin bags | Denver | $36.75 |
2020-P Weir Farm Five Ounce Silver Uncirculated Coin
Priced at $178.25, the 2020-P Weir Farm Five Ounce Silver Uncirculated Coin is composed of 5 ounces of 99.9 percent silver. Coins of this special series have a diameter of 3 inches.
Instead of a reeded edge like on quarters, five-ounce coin edges are flat and incused with "999 FINE SILVER 5.0 OUNCE."
Specifications for the silver coin are as follows:
Five Ounce Silver Uncirculated Coin Specifications
Finish:
Uncirculated
Denomination:
Quarter
Composition:
99.9% Silver
Weight:
5.000 troy oz.
(155.517 grams)
Diameter:
3.000 inches
(76.20 mm)
Edge:
Lettered
Ordering
Quarters and five ounce coins are available directly from the U.S. Mint's online store for America the Beautiful products located here. Orders are also accepted by calling the Mint's customer service line at 1-800-USA-MINT (872-6468).
Generally, an official launch ceremony is held around the time of each coin's release. The Weir Farm ceremony, however, was cancelled owing to the coronavirus (COVID-19) pandemic.
2020 America the Beautiful Quarters
The America the Beautiful series marks their 52nd release with the Weir Farm coins. The series launched in 2010 and is coming close to an end with the 2020 coins marking the last full program year.
2020 program coins and their associated state of territory are shown below:
| | | |
| --- | --- | --- |
| Location of Site | Site Honored | Release Date |
| American Samoa | National Park of American Samoa | Feb. 3, 2020 |
| Connecticut | Weir Farm National Historic Site | May 18, 2020 |
| U.S. Virgin Islands | Salt River Bay National Historical Park and Ecological Preserve | TBD |
| Vermont | Marsh-Billings-Rockefeller National Historical Park | TBD |
| Kansas | Tallgrass Prairie National Preserve | TBD |
2021 will have one program coin honoring the Tuskegee Airmen National Historic Site of Alabama. When finished, the program will have honored one national site from each state, the District of Columbia and the five U.S. territories.