Another year of the United States Mint's America the Beautiful Quarters® Program comes to a close with the newly released Fort Moultrie quarter. The coin's reverse commemorates the fort which is a part of Fort Sumter National Monument in South Carolina.
Philadelphia, Denver and San Francisco Mint-struck quarters with the new design are now available. Buyers have the option of which production facility(s) they would like their quarters to be from in quantities from 40-coin rolls to 100-coin bags.
Designs on Fort Moultrie Quarters
A field of seven design candidates for the quarter's reverse (tails side) competed against each other. The winning design is by United States Mint Artistic Infusion Program (AIP) Artist Richard Scott.
The artistry depicts Sergeant William Jasper returning the regimental flag to the ramparts while under attack from a British ship.
Inscriptions around the battle scene read FORT MOULTRIE, SOUTH CAROLINA, 2016, and E PLURIBUS UNUM. United States Mint Sculptor-Engraver Joseph Menna rendered Scott's artwork for use on coins.
The following B-roll video by the U.S. Mint offers some background footage of the coin's design and production.
All quarters bear the same basic obverse (heads side) effigy of George Washington. The likeness of the first President of the United States was originally designed by John Flanagan.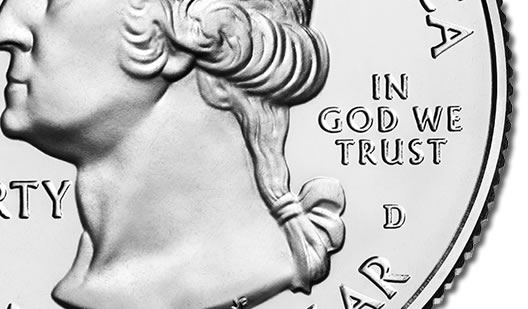 Mintmarks of 'P', 'D' or 'S' are also on obverses, corresponding to production facilities of Philadelphia, Denver or San Francisco.
Quarter Products
This table lists the newly available products and their prices:
| Quarter Product | US Mint Production Facility | Price |
| --- | --- | --- |
| 40-coin rolls | San Francisco | $18.95 |
| Two-roll sets | 40 Philadelphia & 40 Denver coins | $32.95 |
| Three-roll sets | San Francisco, Philadelphia, & Denver | $46.95 |
| 100-coin bags | San Francisco | $34.95 |
| 100-coin bags | Philadelphia | $34.95 |
| 100-coin bags | Denver | $34.95 |
Exclusivity of S-Mint Quarters
Philadelphia and Denver produced quarters are also released into general circulation. Those produced in San Francisco, however, are only issued for numismatic purposes such as these rolls and bags.
Ordering, Coin Forum, Ceremony and Coin Exchange
Visit the U.S. Mint's online store, found here, to buy new quarters. Call 1-800-USA-MINT (872-6468) to order them by phone.
The U.S. Mint will host a coin forum on Wednesday, Nov. 16, and ceremoniously release the new quarter on Thursday, Nov. 17. There is a coin exchange right after the ceremony where the public can swap cash for rolls of the new quarter. This article offers information about the events.
2016 Releases
With this Fort Moultrie quarter, the seventh year in the America the Beautiful series ends. Since its debut in 2010, a total of thirty-five different quarters have been released at a rate of five per year. Each honors a different site of national interest. The series is scheduled to conclude in 2021 at which time fifty-six unique designs will have been issued.
Previous 2016 quarters honor Shawnee National Forest of Illinois, Cumberland Gap National Historical Park of Kentucky, Harpers Ferry National Historical Park of West Virginia and Theodore Roosevelt National Park of North Dakota.