Today, June 29, the United States Mint released rolls and bags of the America the Beautiful Quarter honoring Blue Ridge Parkway in North Carolina. This quarter is the third in 2015 and the 28th overall, signaling the completion of the first half of the fifty-six quarter series.
Officially introduced last Thursday, these coins actually started entering circulation earlier in the month. Still, many collectors will buy them straight from the U.S. Mint since finding quarters of a certain design and by unique mint mark can take many months to years. Plus, those from the San Francisco Mint are made only for coin collectors so none of them will enter circulation.
Blue Ridge Parkway Quarter Design
Before the image for the Blue Ridge Parkway quarter was selected, a total of 6 candidate designs went under review. All of them offered a depiction of the roadway and the scenic beauty seen from it.
Designed by Frank Morris and the sculpted by Joseph Menna, the quarter's reverse depicts a curved road hugging the side of a mountain as it enters a tunnel. North Carolina's state flower, the Cornus florida, also appears in the coin's foreground. Inscriptions around the scene include BLUE RIDGE PARKWAY, NORTH CAROLINA, 2015, and E PLURIBUS UNUM.
Common among all America the Beautiful quarters, the obverse or heads side shows John Flanagan's portrait of George Washington. Surrounding inscriptions read: UNITED STATES OF AMERICA, LIBERTY, IN GOD WE TRUST and QUARTER DOLLAR.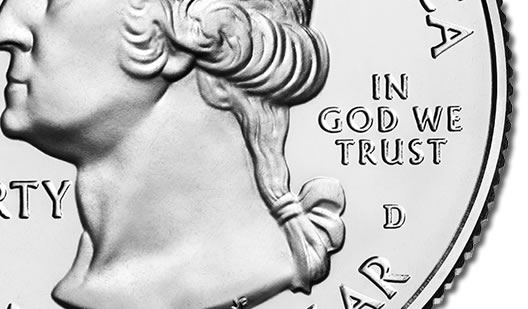 Obverses also have a mint mark of 'P', 'D' or 'S' to notate their striking in Philadelphia, Denver or San Francisco.
Product Options
America the Beautiful Quarters honoring Blue Ridge Parkway are available in several different products to include 40-coin rolls and 100-coin bags with options of where they originated. There are single rolls from the San Francisco Mint, a two-roll set from the Denver and Philadelphia Mints, and a set of three rolls with one from each facility. 100-coin bags are available individually from the three locations. This chart will help make sense of it all:
| Quarter Product | US Mint Striking Facility | Price |
| --- | --- | --- |
| 40-coin rolls | San Francisco | $18.95 |
| Two-roll sets | 40 Philadelphia & 40 Denver coins | $32.95 |
| Three-roll sets | San Francisco, Philadelphia, & Denver | $46.95 |
| 100-coin bags | San Francisco | $34.95 |
| 100-coin bags | Philadelphia | $34.95 |
| 100-coin bags | Denver | $34.95 |
The quarters that are struck in Philadelphia and Denver will eventually make their way into people's pockets as they are released into circulation, but this is not the case for the quarters minted in San Francisco as they are only produced for and sold to collectors.
Ordering Information
The above products are available from the United States Mint's website at www.usmint.gov. Here's a link to the Mint's quarter products. Use 1-800- USA-MINT (872-6468) for phone orders.
About America the Beautiful Program
The U.S. Mint released the first quarter from its America the Beautiful Quarters® Program in 2010 and has issued five quarters every year since then.
Quarters previously released this year include those commemorating Homestead National Monument of America in Nebraska and Kisatchie National Forest in Louisiana. There are two more to come in 2015, and they will honor Bombay Hook National Wildlife Refuge in Delaware and Saratoga National Historic Park in New York.
Look here for quarter news about past releases.
The program is scheduled to wrap up in 2021 after a quarter has been released to honor a national site in all 50 states, D.C. and the five territories of the United States.