Quarters commemorating Harpers Ferry National Historical Park were introduced to the public Wednesday, June 8, at an event held in Harpers Ferry, West Virginia.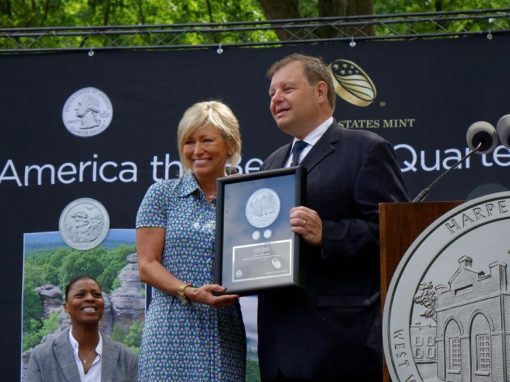 Despite a sudden rain storm, about 1,100 people attended the official launch ceremony that included some 400 children.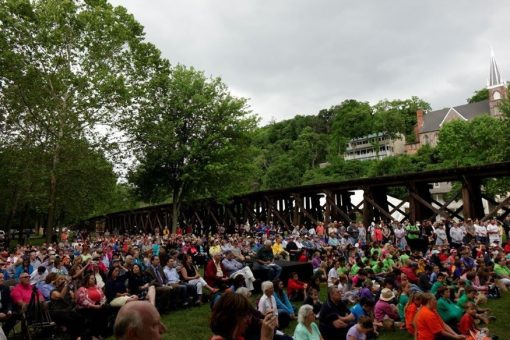 After the event, kids received one of the new coins for free while adults swapped cash for $10 rolls of them. About $29,000 in quarters from the Philadelphia Mint were exchanged by Jefferson Security Bank, according to U.S. Mint spokesman Michael White.
Ceremonial particpants and speakers included United States Mint Artistic Infusion Program designer Thomas Hipschen, the coin's designer; NPS Regional Director Bob Vogel; Harpers Ferry National Historical Park Superintendent Rebecca Harriett; Keith McIntosh on behalf of U.S. Senator Joe Manchin III; Chris Strovel on behalf of U.S. Senator Shelley Moore Capito; Dr. Steve Smoot on behalf of U.S. Representative Alex Mooney; Joy Lewis, a representative from Governor Earl Ray Tomblin's office; and William Norton, United States Mint Director of Legislative and Intergovernmental Affairs.
"This new coin serves as a reminder that at a river-crossing established long before our country's struggle for independence, in a West Virginia town that played an integral role in our nation's Civil War, a diverse number of people and events came together to influence the course of our common history," said Norton.
Basketball Olympic Gold Medalist Vicky Bullett served as master of ceremonies.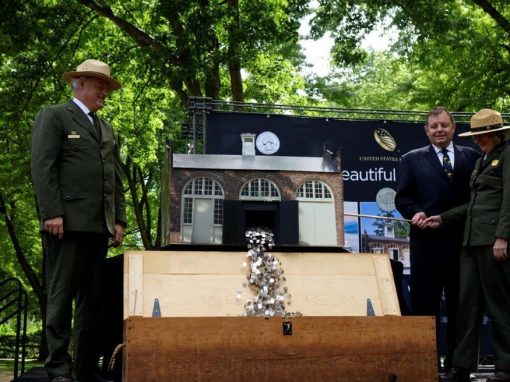 Those who missed the launch ceremony don't have to wait to find Harpers Ferry quarters in change. The United States Mint started selling them on Monday, June 6. Buying options include quarters made at U.S. Mint facilities in San Francisco, Denver and Philadelphia at prices ranging from $18.95 for a roll to $46.95 for a set of three rolls.
On the evening prior to the ceremony, the U.S. Mint hosted a free coin forum to answer questions and talk about existing, new, and upcoming products.
America the Beautiful Quarters debuted in 2010 and will commemorate 56 national parks and other national sites through to 2021. The Harpers Ferry quarter is the 33rd issued. The first two 2016-dated quarters commemorate Shawnee National Forest in Illinois and Cumberland Gap National Historical Park in Kentucky. The last two for this year honor Theodore Roosevelt National Park in North Dakota and Fort Moultrie in South Carolina.