New from the United States Mint is its annual clad America the Beautiful Quarters Proof Set. Sales kicked off at Noon ET with regular pricing of $14.95 and 10% discounted pricing of $13.45 through subscription.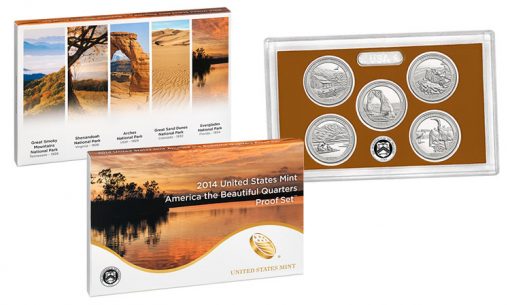 This set is the first product of the year featuring the five 2013 quarters with unique national park designs commemorating:
Great Smoky Mountains National Park in Tennessee
Shenandoah National Park in Virginia
Arches National Park in Utah
Great Sand Dunes National Park in Colorado
Everglades National Park in Florida
These coins are in proof quality with each struck at the U.S. Mint facility in San Francisco, California. Last year I had the opportunity to visit the San Francisco Mint and watch how they specially treated proof blanks, polished dies, created proof coins and package proof sets, including placing the coins in protective lenses and boxing them up. The teams of San Francisco Mint employees are exceptionally dedicated to delivering the best products.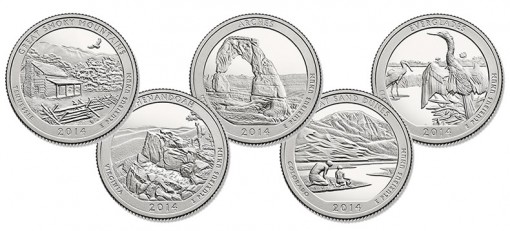 Proof coins are generally more desirable to coin collectors. They are struck at least twice in coining presses to create sharper reliefs. Also, the dies and blanks are polished. When pressed together, that creates coins that have mirror-like backgrounds and frosted foregrounds for that special cameo effect.
Since all proof America the Beautiful Quarters are struck in San Francisco, they will have a 'S' mint mark on their obverse to the right of George Washington's portrait. Conversely, quarters minted for general circulation and found in change are produced at the Philadelphia Mint or Denver Mint and will have 'D' and 'P' mint marks. 2014 America the Beautiful Quarters have not entered circulation. They will launch throughout the year with the first quarter honoring Great Smoky Mountains National Park scheduled for release on Jan. 27, 2014.
Different artists and U.S. Mint sculptors are responsible for the five 2014 national park quarter designs. An earlier coin news article offers images and in depth details for every design, as does the United States Mint website.
Quarters of the proof set are in clad composition, the same as circulating quarters, with a mixing of 8.33% nickel and the remaining balance copper. On Jan. 21, 2014 the Mint will release a silver version of the proof set where the quarters are struck in 90% silver.
Ordering, 10% Discount and Sales Expectations
Order 2014 America the Beautiful Quarters Proof Sets straight from the Mint's annual product page, or call their toll-free number at 1-800-USA-MINT (872-6468). Standard domestic shipping is $4.95.
Proof sets have no per household ordering limits and mintages of proof coins are determined by demand.
In a new U.S. Mint initiative announced late last year, sets with 2014 America the Beautiful Quarters are available at a 10% discount by joining the bureau's Online Subscription Program. With this latest product, subscribing members save $1.50.
Annually issued sets of quarters are one of the Mint's best sellers. Last year's 2013 America the Beautiful Quarters Proof Set remains available for the same price of $14.95. It scored opening week sales of 48,901. Orders as of Sunday, Jan. 5, total 121,180.