An official launch ceremony for the Hawai'i Volcanoes National Park quarter will be held August 29, 2012 at 1:30 p.m., the United States Mint has confirmed.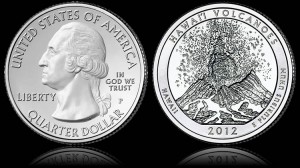 The public ceremony will take place at the Kahua Hula, which is south of the park's Kilauea Visitor Center on Hawaii's Big Island. A coin forum is also scheduled for the evening prior to the ceremony.
Like past events to promote America the Beautiful Quarter releases, the U.S. Mint and the National Park Service will cohost. Most ceremonies take less than 45 minutes. Afterwards, a coin exchange is typically conducted where attendees can swap cash for rolls of the new quarters at face value.
The Hawai'i Volcanoes National Park quarter is the fourteen issued in the America the Beautiful Quarters® series and the fourth in 2012. Beginning on August 27, 2012, Philadelphia and Denver minted Hawaii quarters will be available in bags and rolls directly from the U.S. Mint at http://www.usmint.gov. That is the same day the quarter is set to enter circulation.
Coin Forum Time and Location
For anyone interested in American coinage, a coin forum will be held by U.S. Mint officials on the evening prior to the launch ceremony. It will occur on August 28, 2012 in the park at Kilauea Visitor Center Auditorium, at One Crater Rim Drive.
The coin forum is scheduled to begin at 7:00 p.m. Typically lasting around an hour, attendees can ask U.S. Mint officials about past, current and upcoming coins and products.
2012 America the Beautiful Quarter Releases
Celebrating national parks and national sites throughout the U.S. and its territories between 2010 and 2021, this year's quarters honor:
El Yunque National Forest in Puerto Rico,
Chaco National Historical Park in New Mexico,
Acadia National Park in Maine,
Hawaii Volcanoes National Park in Hawaii, and
Denali National Park and Preserve in Alaska
The Denali National Park quarter is scheduled for release on November 5, 2012. For more information on the coins, check out the 2012 quarter images.