The ceremonial release for the 2010 Yellowstone National Park Quarter will occur on June 3, at 10:30 a.m. Mountain Time, the United States Mint revealed today.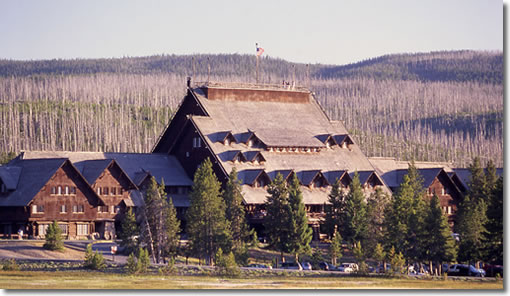 The 2010 Yellowstone National Park Quarter will launch in a ceremony held at Old Faithful Inn, which is adjacent to the Old Faithful Geyser. (NPS photo)
The coin marks the second release in the new America the Beautiful Quarters™ Program which honors national parks and other national sites throughout the U.S. and its territories.
The Yellowstone quarter ceremony will be held at the Old Faithful Inn — a famous National Historic Landmark that was first built more than a century ago. Old Faithful Geyser, which is depicted on the quarter-dollar, may be viewed from areas by the inn.
U.S. Mint Director Ed Moy is expected to be in attendance for the coin launch. A live web cast of the event will be available at http://www.americathebeautifulquarters.gov for those who can not attend and wish to watch.
Similar to past ceremonies, children 18 and under will receive a new Yellowstone quarter for free while others can exchange paper currency for $10 rolls containing 40 circulation-quality strikes from Denver (2010-D Yellowstone National Park Quarters).
Attendees will also be able to have quarter-dollar rolls and event programs canceled with a circular date or pictorial stamp via the U.S. Postal Service.
Two days prior to the ceremony, on June 1, 2010, the coins will released into circulation and available from the Mint in bags or rolls. 100-Coin Quarter Bags (P) and 100-Coin Quarter Bags (D) are $35.95 each. The two-roll sets which include 40 coins from Denver and 40 coins from Philadelphia are priced at $32.95.
Additionally, the Mint on Friday announced three new America the Beautiful Quarters Sets that will be available for order through its Online Subscription Program beginning on May 19.
Yellowstone National Park (http://www.nps.gov/yell/index.htm) spans across portions of Wyoming, Montana, and Idaho. It is America's first national park, having an establishment date of 1872. The area features an abundance of wildlife to include bison, with one notably depicted on the reverse side of the 2010 Yellowstone quarter.
The national park is not only known for Old Faithful Geyser, but for its variety of geysers and springs. It is also home to the Grand Canyon of the Yellowstone.