Marking its first numismatic product of the year, the United States Mint today, January 10, launched the 2012 America the Beautiful Quarters Silver Proof Set for a price of $41.95.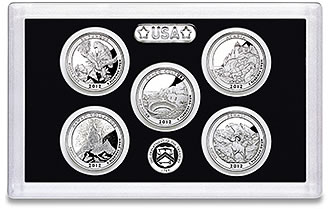 The offering includes five America the Beautiful Quarters® with unique reverse designs honoring El Yunque National Forest of Puerto Rico, Chaco Culture National Historical Park of New Mexico, Acadia National Park of Maine, Hawaii Volcanoes National Park of Hawaii and Denali National Park of Alaska.
Each of the five quarters bears the "S" mint mark denoting production at the United States Mint facility in San Francisco. Each is composed of 90% silver, giving the proof set a total silver weight of 0.904 ounces. At today's London silver Fix price of $29.69 an ounce, the set's melt value equals $26.85, meaning the Mint is charging about a $15 premium.
Price Gouging?
Still available from the United States Mint is the 2011-dated America the Beautiful Quarters Silver Proof Set for the same $41.95 price. Last year's set was released on April 1 when the London Fix of the white metal was $37.63 an ounce, or $7.94 higher than today.
It would be easy to quickly conclude that price-gouging is in affect for this year's set with how much lower silver prices are today. However, that would not be a completely accurate assessment given that the Mint first published a price for last year's silver proof set in January 2010, a month in which silver averaged $28.40 an ounce. As such, the Mint's pricing formula for this and last year's set is arguably very close.
A stronger debate/complaint could be made as to whether the Mint is charging too much of a premium for either of the silver sets given their intrinsic worth. Costs for blanks, labor, packaging, marketing, the sets' numismatic nature and a buffer over silver must be considered to help minimize multiple set suspensions when precious metals are volatile. And some profit is fair. But do/should these factors combine to a double digit premium?
The Mint has lowered prices this year on other America the Beautiful Quarters and 2012 Presidential $1 coin products, suggesting it has been reevaluating its products and pricing as promised last year.
U.S. Mint Order Details
Anyone can purchase the 2011-2012 America the Beautiful Quarters Silver Proof Sets directly from the United States Mint website at www.usmint.gov/catalog, or by calling the bureau's toll-free number at 1-800-USA-MINT (872-6468).
The five America the Beautiful Quarters come sealed in a special protective package with a clear plastic lens, and each set contains a United States Mint Certificate of Authenticity. There are no per household order limits and mintage levels are generally dictated each year by collector demand.
Same Quarters in 2012 Silver Proof Set
Later this year at a yet unannounced date and price, the same quarters will also be issued by the United States Mint within the annual 2012 Silver Proof Set. This set also includes the four 2012 Presidential dollars as well as proof versions of the other 2012-dated circulating coins — the Native American $1 coin, Kennedy half dollar, Roosevelt dime, Jefferson nickel and the Lincoln cent. The half dollar and dime are composed of 90 percent silver, like the quarters. The other coins have a clad composition.