The United States Mint released its 2012 America the Beautiful Quarters Proof Set today, January 17, at noon ET for a price of $14.95, plus shipping and handling.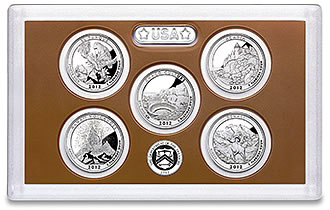 Debuting as the third numismatic product released this year from the Mint, the clad quarters proof set follows behind the 2012-dated silver version which was made available one week ago for $41.95.
Proof sets are annual United States Mint products containing specially minted coins for collectors. While there are several varying sets released each year, each includes coins that are produced using a unique process that results in very sharp reliefs and mirror-like backgrounds. This latest release includes the five 2012 America the Beautiful Quarters celebrating:
El Yunque National Forest of Puerto Rico,
Chaco Culture National Historical Park of New Mexico,
Acadia National Park of Maine,
Hawaii Volcanoes National Park of Hawaii and
Denali National Park of Alaska.
As collector coins, the quarters include a "S" mint mark on their obverse indicating they were produced in the San Francisco Mint. All American coinage produced for circulation is struck in both Philadelphia and Denver. Aside from their unique finishes and mint marks, the proof quarters are identical to the circulating versions, including their clad compositions of 8.33 percent nickel with the remaining copper.
2012 ATB Quarters Proof Sets offer an opportunity to see the latest coin designs up close and early. None of the 2012 quarters have been released into circulation yet. The first one honoring El Yunque National Forest will make its debut next week on Monday, January 23. The others will have staggered release dates throughout 2012. (See quarter release dates.)
Customers can purchase the America the Beautiful Quarters Proof Set directly from the United States Mint website (www.usmint.gov/catalog) or by calling its toll-free number at 1-800-USA-MINT (872-6468). There are no per household order limits stated and mintage levels are dictated by collector demand. Last year's set is still available from the Mint for the same $14.95 price. It was released on March 17, 2011 and has current sales of 139,672 as of Monday, January 9.
The five America the Beautiful Quarters will arrive sealed in a special protective package with a clear plastic lens. Each set contains a United States Mint Certificate of Authenticity.
Later this year, the same quarters will also be issued by the United States Mint within the annual 2012 Proof Set. In addition to the quarter-dollars, this clad set will contain the four 2012 Presidential dollars, the Native American $1 coin, the Kennedy half dollar, the Roosevelt dime, the Jefferson nickel and the Lincoln cent.