Today, Feb. 19, the United States Mint released their Tuskegee Airmen Quarters Three-Coin Set. The set's quarters honor Tuskegee Airmen National Historic Site of Alabama, and carry the last of the 56 designs from the U.S. Mint's America the Beautiful Quarters® Program.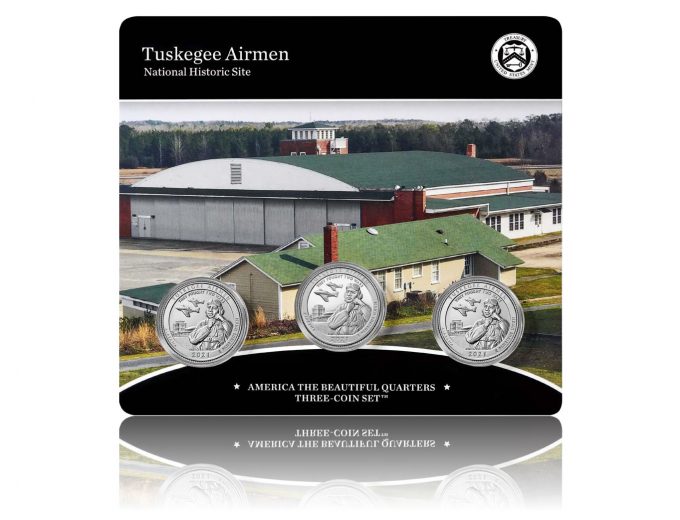 The program was introduced in 2010 and has featured five quarters annually, with the final one this year, each depicting a unique site of national interest — one for every state, the District of Columbia and the five U.S. Territories.
Last week, the Mint started selling rolls and bags of Tuskegee Airmen quarters in circulating quality. Included in this final series set are collector versions of the quarters with two in uncirculated finish and one in proof finish. Specifically, the set includes:
one 2020-S proof quarter from the San Francisco Mint,
one 2020-P uncirculated quarter from the Philadelphia Mint and,
one 2020-D uncirculated quarter from the Denver Mint.
All three are attached to a durable presentation card which includes a picture and brief description of the site and the coins struck to honor it.
The design found on the reverse of each coin depicts a Tuskegee Airman pilot suiting up to join the fight during World War II. Moton Field control tower can be seen in the background. Two P-51 Mustangs pass overhead.
An inscription reads: "THEY FOUGHT TWO WARS," remembering the two fronts they faced — fascism abroad and racial discrimination at home. Additional Inscriptions include "TUSKEGEE AIRMEN," "ALABAMA," "2021" and "E PLURIBUS UNUM."
The image was designed by U.S. Mint Artistic Infusion Program Artist Chris Costello with Medallic Artist Phebe Hemphill sculpting.
All coins of the series share the same obverse (heads side) portrait of George Washington. The portrait, by John Flanagan, has appeared on circulating U.S. quarters since 1932, with a few slight changes. Obverse inscriptions include "UNITED STATES OF AMERICA," "LIBERTY," "IN GOD WE TRUST" and "QUARTER DOLLAR."
A mintmark of 'P', 'D' or 'S' (with each letter respectively denoting a coin's production at the Philadelphia Mint, the Denver Mint and the San Francisco Mint) also appears on obverses.
Ordering
The 2021 Tuskegee Airmen National Historic Site Quarter Three-Coin Set may be purchased directly from this U.S. Mint page dedicated to American the Beautiful products.
Each is sold for $11.50. No mintage, product or household order limits apply.