It has been over three weeks since the United States Mint last issued a new product for collectors. That drought ends today, June 29, with their just released 2020 Weir Farm National Historic Site Quarter Three-Coin Set.
The set holds three numismatic quality quarters showcasing reverse (tails side) designs honoring Weir Farm National Historic Site in Connecticut. This particular design is the 52nd of 56 created as part of the U.S. Mint's America the Beautiful Quarters® Program. Two of the set's quarters are in an uncirculated finish. The other features a proof finish.
Federal Reserve Banks started distributing regular Weir Farm quarters for circulation in early April but, due to the COVID-19 pandemic, U.S. Mint sales of circulating quality Weir Farm quarters in rolls and bags were delayed until mid-May. It is also unusual for a 3-coin set of quarters to lag so far behind their release into circulation. That is another result of the pandemic.
This latest set includes following three strikes:
one 2020-S proof quarter from the San Francisco Mint,
one 2020-P uncirculated quarter from the Philadelphia Mint and,
one 2020-D uncirculated quarter from the Denver Mint.
Each quarter is attached to the same durable plastic card which offers a photographic image of Weir Farm National Historic Site. The back of the card offers brief information about the park, the coins themselves and a certificate of authenticity.
Created by Justin Kunz and sculpted by Phebe Hemphill, the Weir Farm quarter reverse depicts an artist wearing a painter's smock painting outside Julian Alden Weir's studio. Surrounding inscriptions include A NATIONAL PARK FOR ART, WEIR FARM, CONNECTICUT, 2020, and E PLURIBUS UNUM.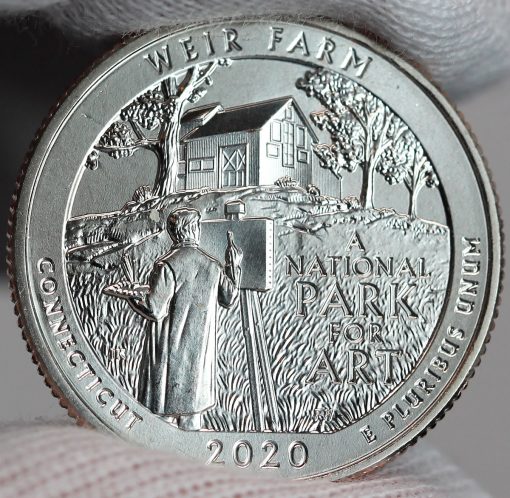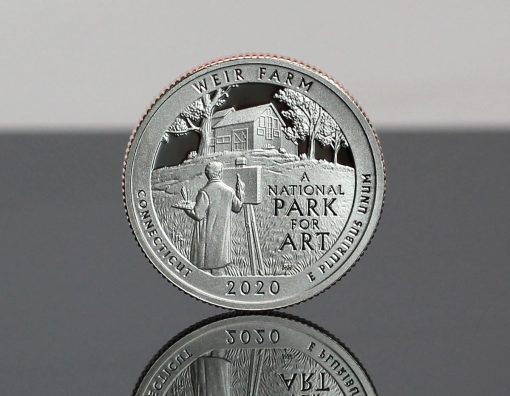 Quarter obverses (heads side) are common for all coins of the America the Beautiful series, featuring John Flanagan's portrait of George Washington. UNITED STATES OF AMERICA, LIBERTY, IN GOD WE TRUST, and QUARTER DOLLAR appear as obverse inscriptions.
Obverses also bear a mintmark of 'P', 'D' or 'S' with each letter respectively denoting a coin's production at the Philadelphia Mint, the Denver Mint and the San Francisco Mint.
Ordering
Priced at $11.50, order the 2020 Weir Farm National Historic Site Quarter Three-Coin Set directly from this U.S. Mint page dedicated to American the Beautiful products.
No mintage, product or household order limits apply.