This month, the United States Mint and the National Park Service will formally introduce the quarter commemorating Fort Moultrie at Fort Sumter National Monument in South Carolina. This year's last quarter ceremony takes place at the site on Thursday, Nov. 17, 2016.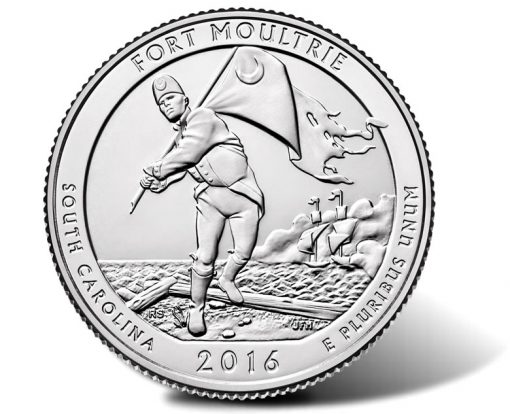 There is also coin forum on the night before the ceremony and coin exchange right after the ceremony. All three events are free and open to the public.
Fort Moultrie quarters enter circulation on Monday, Nov. 14, but it can take months, sometimes years, before they'll regularly appear in pocket change, because the Federal Reserve System distributes quarters and other coins to financial institutions without regard to their designs. The ceremony offers an an early opportunity to get the last of five 2016-dated quarters.
Quarter Launch Ceremony – Time and Location
Quarter ceremonies are special events for locals, coin collectors, and children. They usually take about 30 to 40 minutes, while various speakers provide historical background about the park, local entertainers perform, and official dignitaries unveil the new coin and give a free one to school-aged children.
The event's location details follow:
Date: Thursday, November 17, 2016
Time: 10:30 a.m. (ET)
Location:
Fort Moultrie (Fort Sumter National Monument)
1214 Middle Street
Sullivan's Island, SC 29482
The following map shows the location, which is accessible by car via the Ben Sawyer Bridge.
Coin Exchange
The coin exchange is at the same venue as the ceremony, and begins immediately after it. Attendees can trade cash for $10 rolls of the new quarters. There is a one-roll ($10) minimum and a 10-roll ($100) maximum.
Coin Forum Evening Prior to Quarter Ceremony
A coin collector forum hosted by the United States Mint will take place the evening prior to the launch ceremony. This forum gives people an opportunity to learn more about the United States Mint and ask questions about its products. Coin forums can last about an hour.
Here are the coin forum's time and location details:
Date: Wednesday, November 16, 2016
Time: 6-7 p.m. (ET)
Location:
Fort Moultrie Visitor Center
1214 Middle Street, Sullivan's Island, SC
Rolls and Bags of Quarters
Beginning at noon ET on Monday, Nov. 14, the U.S. Mint will offer Fort Moultrie quarters directly to the public in rolls and bags. Product options include 40-coin rolls, 2-roll sets, 3-roll sets, and 100-coin bags, at prices that range from $18.95 to $34.95. They will be available to order online at catalog.usmint.gov. These product releases will also be covered here on CoinNews.
2016 Quarters
The U.S. Mint's series of America the Beautiful Quarters debuted in 2010 and will last until 2021. Five unique designs appear every year, depicting a park or other national site within the United States or its territories.
The first 2016-dated quarter commemorates Shawnee National Forest in Illinois, the second honors Kentucky's Cumberland Gap National Historical Park, the third celebrates Harpers Ferry National Historical Park in West Virginia, and the fourth commemorates Theodore Roosevelt National Park in North Dakota.