Next week on Thursday, Aug. 25, the United States Mint and the National Park Service will formally introduce the 34th release in the series of America the Beautiful Quarters. This one commemorates Theodore Roosevelt National Park in North Dakota.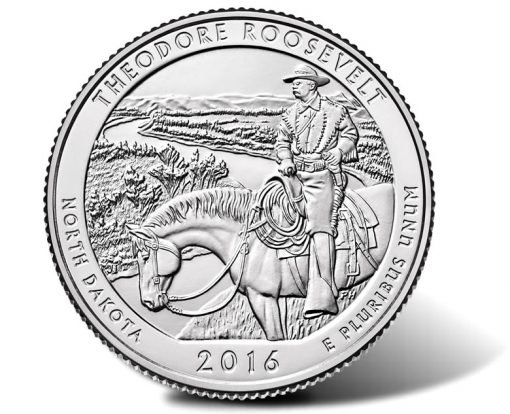 This year's fourth quarter ceremony takes place at the park's visitor center. It coincides with the 100th anniversary of the founding of the National Park Service, which has had stewardship of America's national parks since August 25, 1916.
A coin forum will occur the evening before the quarter launch and a coin exchange will take place right after the ceremony. All three events are open to the public and free.
Theodore Roosevelt National Park quarters also enter circulation this month but it can take a while before they'll appear in commerce, since Federal Reserve Banks distribute coins to financial institutions without regard to their design. The launch event allows everyone at the ceremony an early opportunity to get the fourth of five 2016-dated quarters.
Quarter Launch Ceremony – Time and Location
Quarter ceremonies are special events for locals, coin collectors, and children. They usually take about 30 to 40 minutes, while various speakers provide historical background about the park, local entertainers perform, and official dignitaries unveil the new coin and hand out free quarters to school-aged children. Officials attending include:
Lt. Governor Drew Wrigley
U.S. Senator John Hoeven
U.S. Congressman Kevin Cramer
National Park Service Regional Director Patricia Trap
Theodore Roosevelt National Park Superintendent Wendy Ross
United States Mint Principal Deputy Director Rhett Jeppson
Shirley Meyer, Western Area Director for U.S. Senator Heidi Heitkamp
Clay Jenkinson, Historian
The event's location details follow:
Date: Thursday, August 25, 2016
Time: 10:00 a.m. (MT)
Location:
Theodore Roosevelt National Park
Painted Canyon Visitor Center
I-94, Exit 32
Medora, ND 58645
The following map shows the location of park's visitor center.
Coin Exchange
The coin exchange is at the same venue as the ceremony. First State Bank of Golva will sponsor the event. Attendees can swap cash for $10 rolls of the new quarters, and usually there is a $100 limit per person.
Coin Forum Evening Prior to Quarter Ceremony
As mentioned earlier, the coin forum is scheduled the day before the ceremony. This forum gives people an opportunity to learn more about the United States Mint and ask questions about its products. The forum can last about an hour.
Here are the coin forum's time and location details:
Date: Wednesday, August 24, 2016
Time: 5:30 – 6:30 p.m. (MT)
Location:
Old Town Hall Theater
Medora, ND 58645
The following map shows the location of the theater.
Rolls and Bags of Quarters
Starting at noon ET on Monday, Aug. 29, the United States Mint will also sell Theodore Roosevelt quarters direct to the public in roll and bag options. Specifically, the U.S. Mint will offer them in 40-coin rolls, 2-roll sets, 3-roll sets and 100-coin bags, at prices that range from $18.95 to $34.95. Consumers can get the new quarters online at catalog.usmint.gov once they go on sale. These product releases will be covered here on CoinNews.
2016 Quarters
The U.S. Mint's program of America the Beautiful Quarters kicked off in 2010 and will last until 2021. Five unique designs will appear every year — each depicting a national park or other site. The first 2016-dated release commemorates Shawnee National Forest in Illinois, the second honors Kentucky's Cumberland Gap National Historical Park, and the third celebrates Harpers Ferry National Historical Park in West Virginia. The final 2016 quarter features Fort Moultrie (Fort Sumter National Monument) in South Carolina.