Earlier today, Jan. 11, the United States Mint released its newest product for coin collectors, the 2016 America the Beautiful Quarters Proof Set for $14.95.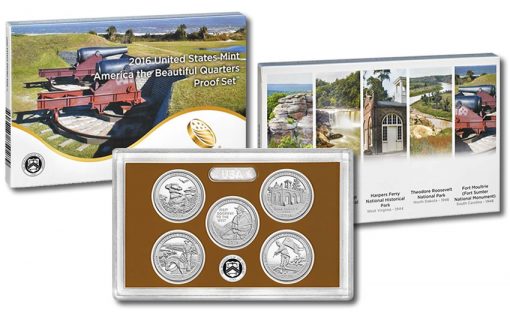 This product is the first opportunity to get all five 2016-dated quarters featuring unique artwork that commemorate the following national sites:
Shawnee National Forest in Illinois
Cumberland Gap National Historical Park in Kentucky
Harpers Ferry National Historical Park in West Virginia
Theodore Roosevelt National Park in North Dakota
Fort Moultrie (Fort Sumter National Monument) in South Carolina
Emblematic designs of these sites appear on the respective quarter's reverses (tails side) while the familiar portrait of George Washington appear on the other sides.
Proof Coin Finish
Quarters of the set are in proof finish, the highest Mint quality. They feature frosty designs, mirror-like backgrounds, and they are struck more than once in coining presses so they show more detail.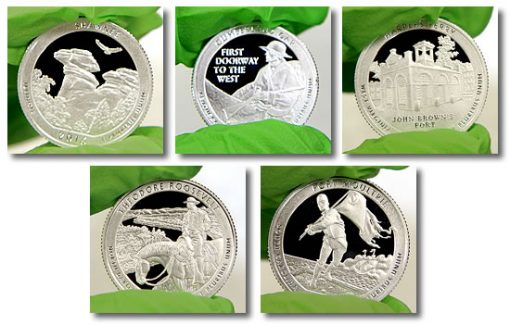 Produced at the U.S. Mint in San Francisco and carrying their "S" mint mark, they're simply more attractive than regular circulating coins minted in Denver and Philadelphia.
The coins are placed in a protective lens, as seen above, to preserve their quality. This lens is then packaged in an illustrated box along with a certificate of authenticity.
Ordering
Order 2016 America the Beautiful Quarters Proof Sets via this U.S. Mint's product page or call the toll-free number at 1-800-USA-MINT (872-6468).
Update: The U.S. Mint suspended sales of the set due to a printing error on the packaging (incorrect image of the Cumberland Gap National Historical Park). Sales are expected to resume in the April timeframe.

Update 2: The set was relaunched with updated packaging on Feb. 23.
There are no mintage limits, product limits, or household order limits. Production will be determined based on demand. If figures for recent sets are an indication, at least 100,000 will sell.
Photos of 2016 Proof Quarters
CoinNews visited the San Francisco Mint to watch 2016-dated proof coins produced and packaged. We will talk more about their new packaging system in an upcoming article. Earlier, we ran image-centric articles on this year's quarters and included names of the different artists and U.S. Mint sculptors that had a major role in creating them. For those articles, see:
Next Two Quarter Products
One more America the Beautiful Quarter product will debut this month. A 90% silver version of this set launches on Jan. 25 for $31.95.
A few of days later, on Feb. 1, the United States Mint will release circulating-quality Shawnee National Forest quarters in rolls and bags at prices ranging from $18.95 to $46.95. The second through fifth quarters enter circulation in April, June, August and November.