Shenandoah National Park Quarters were formerly introduced Friday, April 4, by the National Park Service and United States Mint.
Speaking to the enthusiasm and local support, the U.S. Mint said the launch ceremony drew a full house with nearly 1,000 present and the coin exchange that followed saw $30,000 in quarters swapped for cash.
The event took place in the auditorium of Front Royal's Skyline High School. Guest speakers included Shenandoah National Park Superintendent Jim Northup, Virginia Secretary of Natural Resources Molly Ward, U.S. Senator Tim Kaine, and United States Mint Deputy Director Richard Peterson.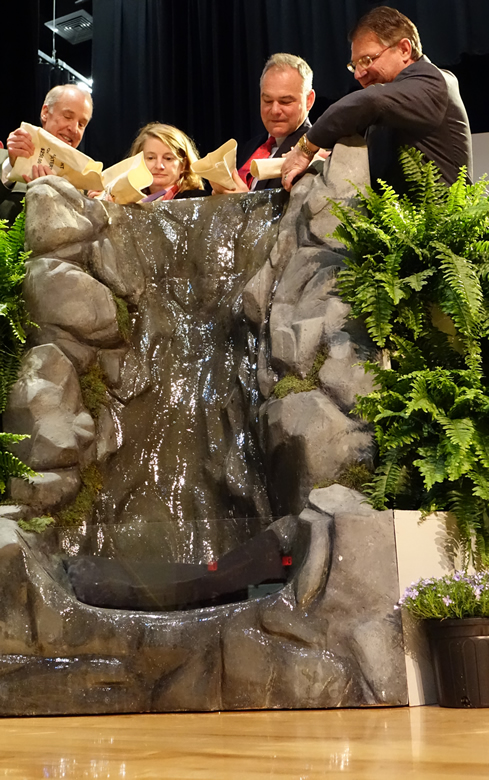 Shenandoah quarters started entering circulation on March 31, the same day the U.S. Mint introduced bags and rolls of the coins for public sale. Launch ceremonies officially introduce new quarters, offering a historic backdrop on the national sites their designs commemorate and a setting to celebrate their release.
"I am very happy to be in Front Royal, where my father attended Randolph-Macon Academy, to honor a state with such a rich history and promising future, a state my family and I call home," United States Mint Deputy Director Richard Peterson said.

"The Shenandoah National Park Quarter emphasizes one of my favorite things about Virginia – its natural beauty that must be enjoyed and at the same time protected for future generations."
Children often play a big role in how launch ceremonies are shaped. Of the around 1,000 who attended the Shenandoah quarter launch, about 500 were students. Participating schools included:
A. S. Rhodes Elementary School
E. Wilson Morrison Elementary School
Hilda J. Barbour Elementary School
Leslie Fox Keyser Elementary School
Ressie Jeffries Elementary School
Warren County Middle School
Skyline High School
Warren County High School
Children receive a free quarter for attending. Many adults enjoy quarter launches as they can exchange cash for rolls of the new coins with about 3,000 rolls swapped on Friday.
The Shenandoah National Park Quarter of Virginia is the second issue this year from the U.S. Mint's America the Beautiful Quarters® Program. Its reverse or tails side design, by Phebe Hemphill, depicts a day hiker taking in the view from the park's Little Stony Man summit. The coin is the 22nd overall since the program debuted in 2010.
Released earlier this year was the Great Smoky Mountains National Park Quarter for Tennessee. Upcoming 2014 park quarters include designs honoring Arches National Park in Utah, Great Sand Dunes National Park in Colorado and Everglades National Park in Florida.
On Tuesday, April 8, the U.S. Mint at www.usmint.gov/catalog will offer a special set that includes three collector versions of the Shenandoah National Park Quarter.