Freezing temperatures, several inches of snow and school shutdowns dampened plans but didn't stop the official launch of the Great Smoky Mountains National Park quarter in Gatlinburg, Tenn. on Jan. 29.
Inclement weather caused road closures in the most visited national park of America, canceling the U.S. Mint-hosted Coin Forum which is traditionally the prequel event to quarter ceremonies.
The ceremony escaped cancellation, held outside the national park at Gatlinburg Convention Center, though it was delayed for an hour and a half to give people more time to travel and attend. Despite the weather, several hundred people still made it to the ceremony, some from well across the country.
Jay Adams, radio personality at Mix 105.5, served as master of ceremonies.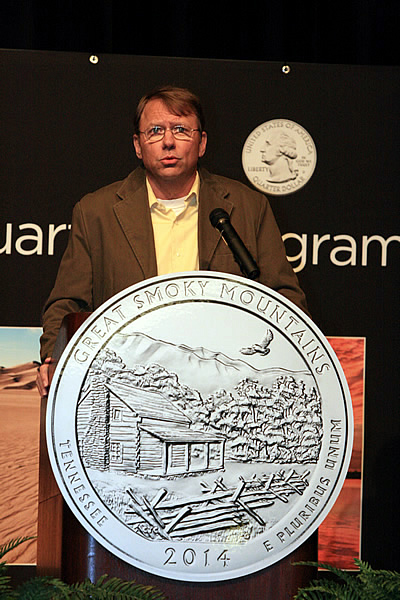 The Boogertown Gap spiced up the event with music.
Official hosting duties fell to David Croft, United States Mint Acting Associate Director for Manufacturing, and Pedro Ramos, Great Smoky Mountains National Park Acting Superintendent.
"We are honored that our park is being commemorated in such a special way by the United States Mint," Ramos said. "The collection of cabins protected within Great Smoky Mountains National Park is a resource worthy of national attention as is the legacy of the memories and feelings they evoke."
Short speeches were also offered by:
Harlow Sumerford, East Tennessee Field Director, Governor's Office
Brad Free, Park Ranger, Great Smoky Mountains National Park
Kent Cave, Park Ranger, Great Smoky Mountains National Park
There were some grade schoolers and older kids from the local high school in attendance. Each received a free, shiny Great Smoky Mountains National Park Quarter after the ceremony.
Then, of course, there was the coin exchange hosted by Citizens National Bank. The venue let anyone exchange cash for $10 rolls of the new quarters. Just two days earlier, the U.S. Mint started selling bags and rolls of the coins.
Additional Ceremony Photos
Below are several more photos taken during the ceremony.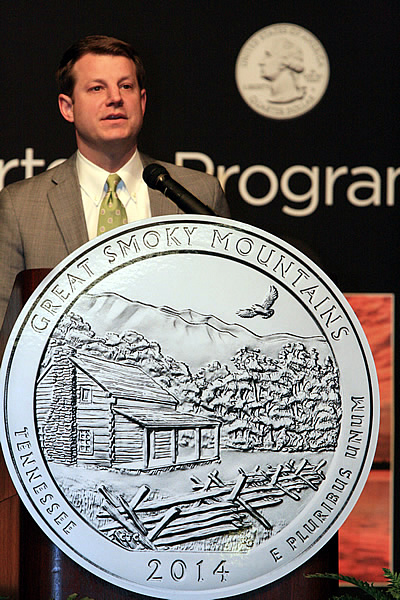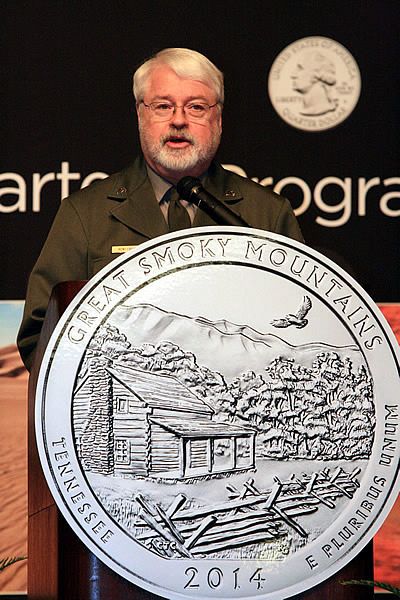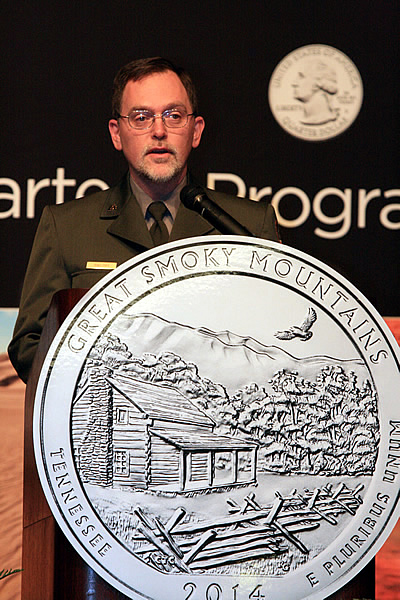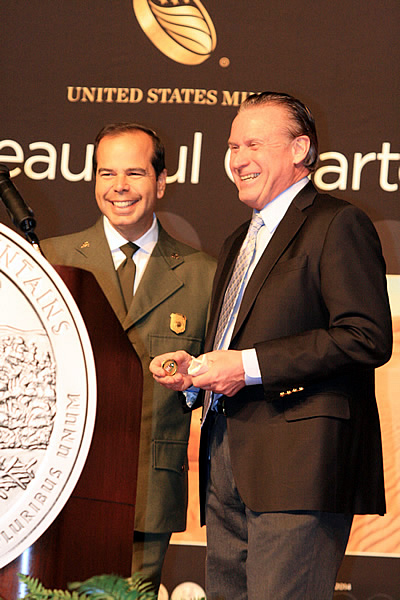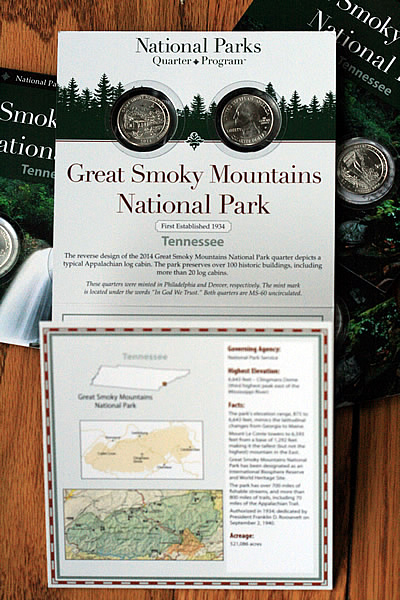 America the Beautiful Quarters Series
The Great Smoky Mountains quarter is the first of five America the Beautiful Quarters for 2014 and the 21st since the series kicked off in 2010. When completed, a total of 56 national parks and other national sites will be commemorated at a rate of 5 per year with the final one honored in 2021.
Source of Photos
The photos are by Brian Davis. Brian lives in Bloomington, IL and owns a rental cabin (Bear's Den) in Gatlinburg, TN. He's a frequent visitor to the Smoky Mountains and the Gatlinburg, TN area.