Next week the United States Mint will launch one five ounce coin and two circulating quarter products, keeping fans of the America the Beautiful coins series busy. Each release honors Chaco Culture National Historical Park in New Mexico.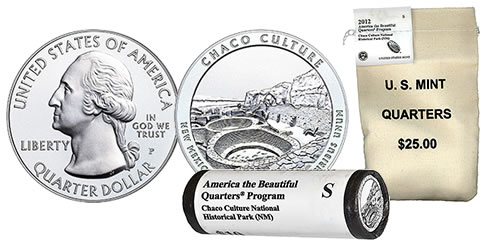 Starting Monday, July 9, the U.S. Mint will begin selling the 99.9% pure silver five ounce 2012-P Chaco Culture National Historical Park coins for $204.95 each, just like the previous six in the program that are still for sale. The latest collector item is the second this year and 12th overall in the America the Beautiful Five Ounce Silver Uncirculated Coin series.
Collectors will, upon the coin's launch, be able to buy one through the U.S. Mint product page located here.
Next, beginning on Thursday, July 12, San Francisco Mint struck Chaco Culture quarters will go on sale in 40-coin rolls and 100-coin bags. The Chaco Culture quarters are already in the U.S. Mint's line up, but they are the ones produced in Philadelphia and Denver. The new coins are in circulation quality and bear San Francisco's "S" mint mark.
The rolls and bags of quarters honoring New Mexico that are for sale now and the ones coming Thursday may be ordered from the U.S. Mint product page located here.
On their respective days, the items described above will become available at 12:00 noon ET. Besides the online ordering pages, buyers can make purchases via the U.S. Mint's toll-free phone line at 1-800-USA-MINT.
The following table shows the upcoming product release schedule for the United States Mint in July and August.
July and August US Mint Numismatic Product Releases
| Release Date | U.S. Mint 2012 Numismatic Product | Product Price |
| --- | --- | --- |
| 7/09/2012 | Chaco Culture National Park 5 Ounce Silver Uncirculated Coin | $204.95 |
| 7/12/2012 | 2012-S Chaco Culture Quarters Bags | $34.95 |
| 7/12/2012 | 2012-S Chaco Culture Quarters Rolls | $18.95 |
| 8/02/2012 | 2012-W Uncirculated American Silver Eagle | TBD |
| 8/13/2012 | Acadia National Park 5 Ounce Silver Uncirculated Coin | $204.95 |
| 8/16/2012 | Benjamin Harrison Presidential Dollar Rolls, Philadelphia | $32.95 |
| 8/16/2012 | Benjamin Harrison Presidential Dollar Rolls, Denver | $32.95 |
| 8/16/2012 | Harrison Presidential $1 100-coin Bags, Philadelphia | $111.95 |
| 8/16/2012 | Harrison Presidential $1 100-coin Bags, Denver | $111.95 |
| 8/16/2012 | Harrison Presidential $1 250-coin Boxes, Philadelphia | $275.95 |
| 8/16/2012 | Harrison Presidential $1 250-coin Boxes, Denver | $275.95 |
| 8/16/2012 | Harrison Presidential $1 500-coin Boxes, Philadelphia | $550.95 |
| 8/16/2012 | Harrison Presidential $1 500-coin Boxes, Denver | $550.95 |
| 8/27/2012 | Hawaii Volcanoes National Park Quarter Two-Roll Sets | $32.95 |
| 8/27/2012 | Hawaii Volcanoes Quarter Bags, Philadelphia | $34.95 |
| 8/27/2012 | Hawaii Volcanoes Quarter Bags, Denver | $34.95 |
| TBD | Alice Paul First Spouse Gold Proof | TBD |
| TBD | Alice Paul First Spouse Gold Uncirculated | TBD |