Collector versions of the newly released 2012 quarters for Acadia National Park in Maine launched today, June 12, from the United States Mint. The Acadia Quarter Three-Coin Set is on sale for $9.95.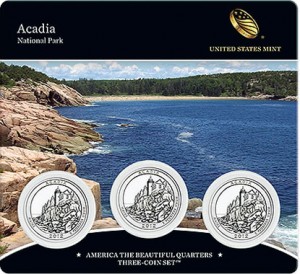 The thirteenth release in the America the Beautiful Quarters Three-Coin Set™ series and the third for this year is popular with collectors because it includes three numismatic clad strikes. They are a:
2012-P uncirculated Acadia Quarter
2012-D uncirculated Acadia Quarter and
2012-S proof Acadia Quarter
These differ from the circulating quality quarters that may be found in circulation or within the bag and two-roll set products released by the U.S. Mint yesterday. Using enhanced manufacturing techniques to produce them, the three collector coins are sharper and more detailed.
Although these same collector versions of the quarter featuring Acadia are already on the market, they are in more expensive sets. The three-coin set is the most affordable option, for just the quarters. The 2012 America the Beautiful Quarters Uncirculated Set is $3 more at $12.95 but is missing the San Francisco proof strike, which can be found in the 2012 America the Beautiful Quarters Proof Set for an additional $14.95.
Packaging for the latest product includes a durable plastic card that holds the coins and briefly describes the national park and the coin design. A Certificate of Authenticity is on the back of the card while the front has a full color picture of the park's scenic landscape.
Order Information
Orders for the Acadia Quarter Three-Coin Set may be placed on this U.S. Mint product page, or at 1-800-USA-MINT (872-6468). There are no household limits. As usual, the Mint charges a standard shipping and handling fee of $4.95 for all domestic orders.
Expected Sales
In the past, debut sales of the three-coin sets have been above 10,000 within the first week. Many sales may be attributed to the U.S. Mint's subscription program, ensuring collectors immediate delivery of products as soon as they become available. Every set in the series is still for sale, including the very first one honoring Hot Springs, and the best seller is the Yellowstone Quarter set with 20,962 in sales as of June 4, 2012.
Acadia Quarter Ceremony
The United States Mint and the National Park Service will celebrate the new release with an official Acadia National Park Quarter Launch Ceremony on Tuesday, June 26, 2012. The event will take place at the Hulls Cove Visitor Center in Acadia National Park near Bar Harbor, Maine at 9:30 A.M. Eastern Time.
The night before the ceremony, the U.S. Mint will host a coin forum for the public starting at 6:30 P.M., and it will be indoors at the Hulls Cove Visitor Center's auditorium. More details, such as the featured speaker, will be released soon.