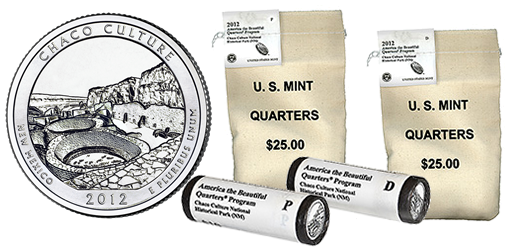 A special ceremony will be held Thursday, April 26, to officially unveil the Chaco Culture National Historical Park Quarter to the public. The second 2012 America the Beautiful Quarter honors the national park located in northwestern New Mexico.
Already released into circulation on April 2 with U.S. Mint bags and rolls of the coins issued on the same day, the release ceremony for the Chaco Culture Quarter provides the traditional environment where officials from the United States Mint and National Park Service can explain the history of the park and how the new coins will honor it for all-time.
The ceremony will take place at 10:30 AM MT at the Chaco Culture National Historical Park Visitor Center which is located at 1808 RD 7950 in Nageezi, NM. Most release ceremonies take from 30-40 minutes. Following the event, attendees can exchange cash for $10 rolls of the quarters.
Officials at the ceremony will include Dick Peterson, Deputy Director, U.S. Mint, Barbara West, Superintendent, Chaco Culture National Historical Park and Theresa Pasqual, Director, Acoma Historic Preservation Office. They will introduce the Chaco Culture quarter to the public and nearly two hundred schoolchildren from around the area.
Coin collectors and other enthusiasts will also have the opportunity to learn more about existing and upcoming United States Mint products through a coin forum held the evening prior to the ceremony. Hosted by the U.S. Mint and free to the public, the coin forum will begin at 6:30 PM at the Gateway Park Museum and Visitor Center, at 3041 East Main Street in Farmington, NM. Most coin forums last around an hour.
The America the Beautiful Quarters® program will commemorate a total of 56 national parks or other national sites in each U.S. state, territory and the District of Columbia. Introduced in 2010, the program will last at least until 2021. The Chaco Culture quarter is the 12th overall in the series.