Rolls of America the Beautiful Quarters this year will be priced $7 lower, according to a new U.S. Mint notice published on the Federal Register Friday and dated one week earlier.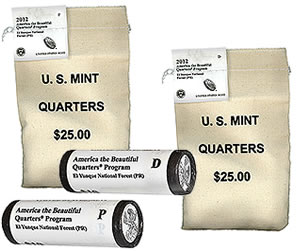 The reduction follows a series of other cuts in product prices recently announced by the U.S. Mint, including companion bags of 2012 America the Beautiful Quarters. Quarter rolls and bags are made available on the day a new quarter design is released into circulation. The rolls are sold in a "two-roll set" containing 40 coins from Philadelphia and 40 coins from Denver. The bags are filled with 100 coins from either Philadelphia or Denver, buyer's choice.
New Quarter Product Prices
Rolls and bags of past quarters are currently offered by the U.S. Mint for $39.95 and $49.95, respectively. 2012-dated rolls will drop $7 to $32.95, changing the product's premium over face value from $19.95 to $12.95. The bags will fall $15 to $34.95, cutting the premium from $24.95 to $9.95.
Previously announced reductions in other 2012 America the Beautiful Quarters products include:
ATB Three-Coin Sets from $19.95 to $9.95,
ATB Uncirculated Coin Set from $21.95 to $12.95, and
ATB Circulating Coin Set from $9.95 to $5.95
This year's America the Beautiful Quarters celebrate El Yunque National Forest of Puerto Rico, Chaco Culture National Historical Park of New Mexico, Acadia National Park of Maine, Hawaii Volcanoes National Park of Hawaii and Denali National Park of Alaska. The coins will have staggered releases throughout 2012 with the first release honoring El Yunque on January 23, 2012 and the final release for Denali on November 5, 2012.