Release dates are now known for the five 2012 America the Beautiful Quarters® that celebrate El Yunque National Forest in Puerto Rico, Chaco Culture National Historical Park in New Mexico, Acadia National Park in Maine, Volcanoes National Park in Hawaii and Denali National Park in Alaska.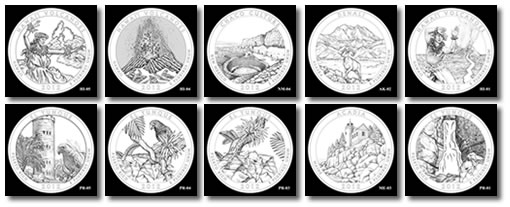 Marking the third year since the quarters were introduced, the coins represent the 11th through 15th issue in the series which honor national parks and other national sites throughout the United States, D.C., and each U.S. Territory. There will be 56 quarters in total upon the final issue in 2021.
All release dates for the 2012 America the Beautiful Quarters were published by the Federal Reserve Bank Services. Federal Reserve Banks acquire quantities of American coinage from the United States Mint based on expected demand, and are responsible for fulfilling orders placed by banks and other depository institutions across the nation.
In the order of their official release into circulation, the 2012 America the Beautiful Quarters release dates follow:
2012 America the Beautiful Quarter Release Dates
| | |
| --- | --- |
| Coin for Release | Public Release Date |
| El Yunque National Forest Quarter | January 23 |
| Chaco Culture National Historical Park Quarter | April 2 |
| Acadia National Park Quarter | June 11 |
| Volcanoes National Park Quarter | August 27 |
| Denali National Park Quarter | November 5 |
The Federal Reserve does note that the dates are subject to change, although such changes in the past have been rare.
The United States Mint has not yet announced or released the official images for the reverse designs of the 2012 quarters. Design candidates were revealed in late 2010. Each of the quarter dollar obverses will feature the familiar portrait of George Washington.
For past quarter release dates and for what year sites will be honored in the future, see this coin news page.