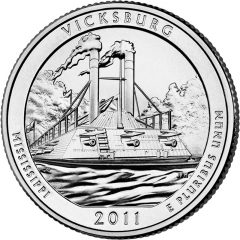 Officials from the National Park Service and United States Mint will unveil the Vicksburg National Military Park quarter in a ceremony on Tuesday, August 30, and later offer an opportunity to exchange cash for the new coins. The Mint will also hold a public coin form on August 29, the evening prior to the ceremony.
The United States Mint previously announced ceremony dates in July, but a media advisory published late last week offers several more details.
Vicksburg Ceremony and Coin Exchange Details
Marking the ninth release in the America the Beautiful Quarters® series, the Vicksburg National Military Park quarter ceremony will begin on Tuesday at 9:30 a.m. CT. Location details follow:
USS Cairo Museum 
Vicksburg National Military Park
3201 Clay Street
Vicksburg, Miss. 39183-3495
Due to parking constraints, the National Park Service indicates that there will be no onsite parking at the U.S.S. Cairo Museum.
"The public is requested to carpool if possible, and follow staff instructions for parking along Confederate Avenue or North Union Avenue in the park."
Shuttle busses will be available to transport attendees, beginning as early as 7:15 a.m. with runs made every 15 minutes. Clay Street or Fort Hill entrance gates will be open for visitors. The National Park Service has also indicated that the:
"Vicksburg National Cemetery will be closed to vehicular traffic between 7:00 p.m., Monday, August 29, and 12:00 noon, August 30."
Children attending the ceremony will receive one Vicksburg quarter for free while adults may exchange cash for between one to ten rolls after the ceremony ends. Each 40-coin roll will be sold at face value for $10.
Others not attending the ceremony may purchase bags and rolls of the quarters directly from the United States Mint website (http://www.usmint.gov/) beginning on August 29 at noon ET. The rolls will be available for $39.95 each and the bags for $49.95 each.
The Vicksburg National Military Park quarter features a reverse design depicting the U.S.S. Cairo on the Yazoo River as it would have been seen when it served the Union Navy during the Civil War. It was designed by Thomas Cleveland and sculpted by Joseph Menna.
Free Coin Forum
The United States Mint will hold a public coin forum where enthusiasts can ask questions or express views about past, current and upcoming coins and products.
The free coin forum will be held Monday evening at 7 p.m. CT at the Vicksburg National Military Park in the Visitor Center Auditorium which is located on 3201 Clay Street. The auditorium will open at 6:30 p.m. Most forums last from one to two hours.