The United States Mint on Wednesday at noon ET made available the Grand Canyon Three-Coin Set for $14.95, plus shipping and handling.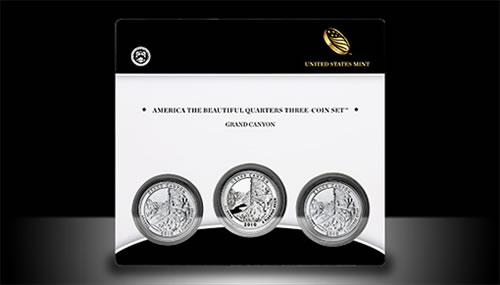 The set is the fourth release in the new series and it includes three Grand Canyon National Park Quarters which honor the national site located in the state of Arizona.
The set is produced for collectors as it contains numismatic issues including:
an uncirculated 25c piece from the US Mint at Philadelphia,
an uncirculated 25c piece from the US Mint at Denver, and
a proof 25c piece from the US Mint at San Francisco
While the three-coin set has a 2011-dated release, the coins in it are last year issues. The Grand Canyon Quarter launched into circulation on September 20. The United States Mint also began selling them in bags and rolls on the same day. The coin was ceremoniously introduced to the public on September 21 on the park's South Rim.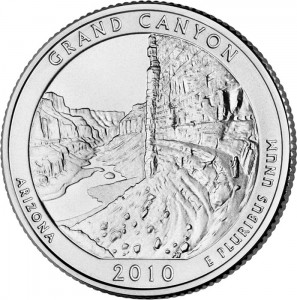 The Grand Canyon National Park Quarter reverse features a view of the granaries above the Nankoweap Delta in Marble Canyon near the Colorado River. Inscriptions on the coin include GRAND CANYON, ARIZONA, 2010 and E PLURIBUS UNUM. It was both designed and sculpted by Phebe Hemphill.
The US Mint still has the first three issues available. As of Sunday, April 10, collectors have purchased 17,233 of the Hot Springs Quarter Three-Coin Set, 17,022 of the Yellowstone Quarter Three-Coin Set, and 14,451 of the Yosemite Quarter Three-Coin Set.
Each three-coin set may be ordered from the United States Mint website (http://www.usmint.gov/), or its toll free number 1-800-USA-MINT (872-6468).
The release containing the final 2010 America the Beautiful Quarter representing Mound Hood National Forest will be available from the Mint on May 4. The 2011-dated three-coin sets have the following expected availability dates:
Gettysburg on July 27, 2011
Glacier on July 27, 2011
Olympic on July 27, 2011
Vicksburg on October, 19, 2011
Chickasaw on December 20, 2011
The Grand Canyon coin is one of at least 56 that will be issued through 2021 that honor American national parks and other sites throughout the U.S. and its territories.
The US Mint has also produced five-ounce, .999 fine coins featuring the same designs as those on the quarter. The Grand Canyon National Park Silver Bullion Coin was sold to the Mint's network of Authorized Purchasers in December. The collector version, the Grand Canyon Silver Uncirculated Coin, will be available later this year.