Further details for the ceremonial release of the 2010 Grand Canyon National Park Quarter were published this week by the United States Mint.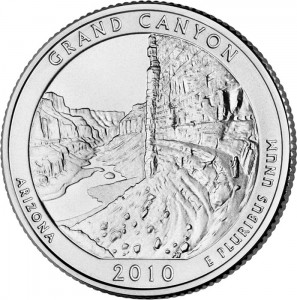 The U.S. Mint in late June provided ceremony dates for all of the remaining 2010 America the Beautiful Quarters™, but the new information provides specific details for those planning on attending the latest quarter release.
The Mint and the National Park Service will kick off the fall season by introducing Arizona's Grand Canyon National Park Quarter on September 21 at 1:30 p.m. (MST), on the park's South Rim, between Hopi House and Verkamp's Visitor Center.
Since parking near the ceremony is "extremely limited," the Mint is strongly encouraging those who plan on attending to:
"Park in one of the lots at the Grand Canyon Visitor Center or the Backcountry Information Center and ride the park's free shuttle to a stop near Hopi House."
Grand Canyon Quarters will actually be released into circulation through Federal Reserve Banks beginning on September 20, and the Mint will offer bags and rolls of the coins starting at noon ET on the same day. However, in addition to experiencing a unique coin release, those attending the official ceremony on the 21st will have the opportunity to exchange cash for $10 rolls of the coins at face value. Also, children 18 years old and younger will receive one free 25-cent piece to commemorate the event.
The 2010 Grand Canyon National Park Quarter is the fourth of five America the Beautiful Quarters to be issued this year. The series will celebrate U.S. national parks and other national sites until at least 2021.
The quarter-dollar program debuted this year with the release of the 2010 Hot Springs National Park Quarter on April 19, 2010. The 2010 Yellowstone National Park Quarter was released into circulation on June 1, 2010, while the third Yosemite National Park Quarter launched on July 26, 2010. The fifth and final coin for 2010, that Mt. Hood National Forest Quarter, will be released on November 15, 2010.
This fall the Mint is expecting to produce the 5-ounce silver bullion coins, which are super-sized versions of the quarters. Officially dubbed the "America the Beautiful Silver Bullion Coin™ Program," the coins in the series will feature a diameter of 3 inches, have a composition of .999 fine silver, and duplicate the designs of each quarter.