Celebrating a national site in Idaho, the United States Mint today released a three-coin set of collector-grade quarters bearing reverse designs emblematic of the Frank Church River of No Return Wilderness.
The national wilderness was established in 1980 and takes its name from two sources, Senator Frank Church who was instrumental in the establishment of the protected area, and the wilderness's Main Salmon River which was long ago given the nickname "river of no return."
The set's quarters are produced at three different U.S. Mint facilities in two unique finishes. There is:
one 2019-P uncirculated quarter from the Philadelphia Mint
one 2019-D uncirculated quarter from the Denver Mint, and
one 2019-S proof quarter from the San Francisco Mint.
U.S. Mint AIP Artist Emily Damstra created the quarters' reverse design which shows a piloted drift boat on a rushing river with surrounding rocks and trees. Encircling the design are inscriptions of "RIVER OF NO RETURN," "WILDERNESS," "IDAHO," "2019," and "E PLURIBUS UNUM." The Mint's Renata Gordon executed the sculpting.
This three-coin set follows regular circulating Frank Church River of No Return Wilderness quarters released Nov. 4 within U.S. Mint-branded bags and rolls. The coin itself is issued as the final 2019-dated quarter from the Mint's America the Beautiful Quarters® Program.
All coins of the program share the same obverse design, a restored 1932 portrait of George Washington by sculptor John Flanagan. Obverse inscriptions read "UNITED STATES OF AMERICA," "LIBERTY," "IN GOD WE TRUST," and "QUARTER DOLLAR."
Also found on the obverse is a mintmark indicating each coin's facility of production — a "P" for Philadelphia, a "D" for Denver and an "S" for San Francisco.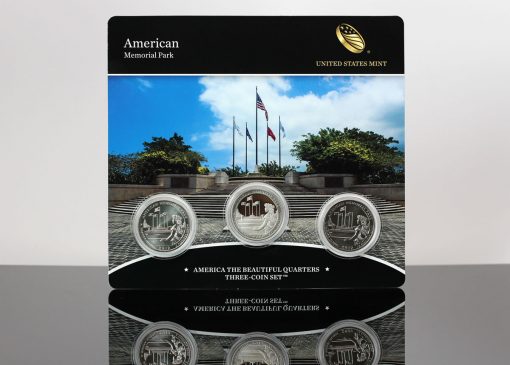 The set's three quarters are held within durable plastic card that bears an image of the wilderness on its front and a U.S. Mint Certificate of Authenticity on its back.
Ordering
2019 Frank Church River of No Return Wilderness Quarter Three-Coin Sets may be ordered directly from the United Sates Mint via this link to its America the Beautiful related products. Orders may also be placed by calling 1-800-USA-MINT (872-6468).
Priced at $9.95, the set has no mintage, product or household order limits.