Featuring different finishes for the same coin, the United States Mint just released its 2019 American Memorial Park Quarter Three-Coin Set for $9.95.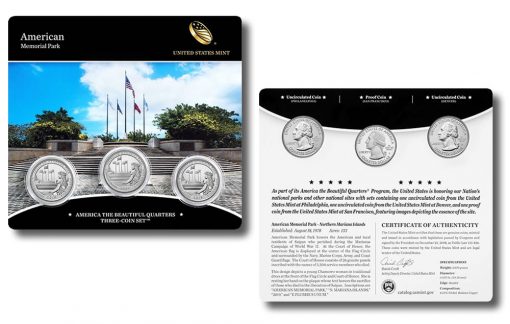 Found within are three American Memorial Park Quarters which made their circulating debut on April 1. Instead of a circulating finish, this new set holds higher collector quality coins with:
one 2019-S proof quarter from the San Francisco Mint,
one 2019-P uncirculated quarter from the Philadelphia Mint and,
one 2019-D uncirculated quarter from the Denver Mint
Appearing on their reverse (tails side) is a design emblematic of American Memorial Park of the Northern Mariana Islands. As described by the U.S. Mint:
"The reverse (tails) design depicts a young woman in traditional dress at the front of the Flag Circle and Court of Honor. She is resting her hand on the plaque whose text honors the sacrifice of those who died in the Marianas Campaign of World War II."
Bordering inscriptions read: "AMERICAN MEMORIAL PARK," "N. MARIANA ISLANDS," "2019," and "E PLURIBUS UNUM."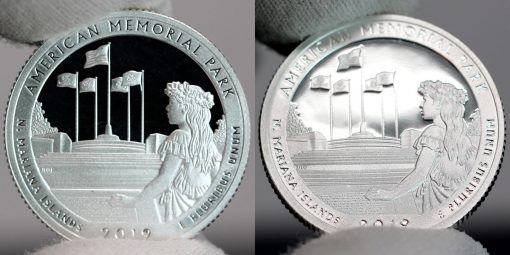 The coin itself is the forty-seventh release in the U.S. Mint's America the Beautiful Quarters Program®. As with all other program releases, the obverse (heads side) offers a portrait of the first President of the United States, George Washington. Surrounding the effigy are inscriptions "UNITED STATES OF AMERICA," "LIBERTY," "IN GOD WE TRUST," and "QUARTER DOLLAR."
In addition, the obverse bears the mintmark of S, P or D indicating the coin's facility of production — San Francisco, Philadelphia or Denver.
All three coins are attached to a durable plastic card that includes a picture of American Memorial Park.
Ordering
2019 American Memorial Park Quarter Three-Coin Sets may be ordered directly from the United Sates Mint via this link to its America the Beautiful related products. Orders may also be placed by calling 1-800-USA-MINT (872-6468).
The set has no mintage, product or household order limits.