Voyageurs National Park Quarter Three-Coin Sets go on sale today, June 19. They will be available from the United States Mint beginning at noon Eastern Time for $9.95.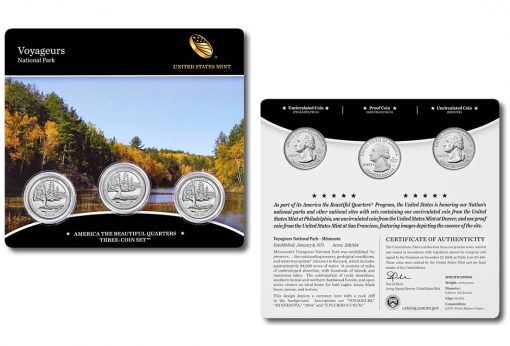 Included within the set are three quarters with each produced at a different minting facility. All showcase the same designs including a reverse that is emblematic of the national park in Minnesota.
The Voyageurs National Park quarter is the third release this year from the U.S. Mint's America the Beautiful series. Regular versions of it in circulating quality launched last week. Produced for coin collectors, the three coins of this set have more unique finishes, with:
one uncirculated quarter from the Philadelphia Mint
one uncirculated quarter from the Denver Mint, and
one proof quarter from the San Francisco Mint.
Their reverse design was created by Patricia Morris and sculpted by Joseph Menna. It shows a common loon swimming in one of the park's lakes. Behind the loon, a rocky cliff and trees along a nearby shoreline are found. Reverse inscriptions read: "VOYAGEURS," "MINNESOTA," "2018" and "E PLURIBUS UNUM."
Their obverses (heads side) offer a portrait of George Washington, the first President of the United States. It is the same obverse effigy that appears on all quarters of the U.S. Mint's America the Beautiful Quarters® Program. In fact, the portrait by John Flanagan has been found on quarter dollars since 1932, with some minor alterations.
Obverse inscriptions read: "UNITED STATES OF AMERICA," "LIBERTY," "IN GOD WE TRUST" and "QUARTER DOLLAR." In addition, mintmarks are found on the obverse with 'D' for the Denver Mint, a 'P' for the Philadelphia Mint, and an 'S' for the San Francisco Mint.
Coins of the set are all attached to a plastic card which offers a photographic background of Voyageurs National Park. A brief description of the national park and a certificate of authenticity is also printed on the card.
Ordering
The 2018 Voyageurs National Park Quarter Three-Coin Sets may be ordered directly from the U.S. Mint along with other America the Beautiful products on its website, located here. Orders are also accepted by calling 1-800-USA-MINT (872-6468).
Older Three-Coin Sets Available
Sets dating back to 2016 are still available. Figures show their sales range from about 10,750 to 16,600.
The first set released this year included quarters honoring Pictured Rocks National Lakeshore in Michigan. The second one offered coins commemorating Apostle Islands National Lakeshore in Wisconsin. Two more quarters will be issued later this year with reverse designs emblematic of Cumberland Island National Seashore in Georgia and Block Island National Wildlife Refuge in Rhode Island.