On Nov. 14, the United States Mint and National Park Service will introduce the quarter honoring Indiana's George Rogers Clark National Historical Park. This year's fifth and final quarter ceremony will be held near the national site which is commemorated on the coin's reverse.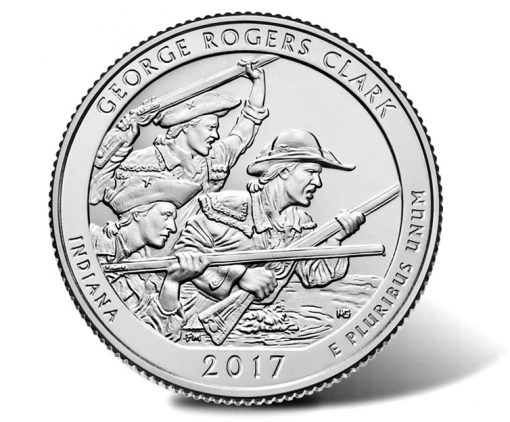 There are three related events supporting the official release. First there is National Park Movie Night on Nov. 9, then a U.S. Mint-hosted coin forum on Nov. 13, and a coin exchange immediately after the quarter ceremony. All three events are free and open to the public.
George Rogers Clark quarters will enter circulation beginning on Nov. 13. However, it can take months and sometimes years before they'll appear in change because the Federal Reserve System distributes coins to financial institutions without regard to their designs. Launch ceremonies offer an early opportunity to get new coins, as does the United States Mint with its quarter roll and bag products.
George Rogers Clark Quarter Launch Ceremony – Time and Location
Quarter ceremonies are unique events for locals, coin collectors, and children. They tend to last about 30 to 40 minutes, as local entertainers perform and officials from the U.S. Mint and National Park Service provide background information about the park. Expected dignitaries at the event include:
Dave Motl, Acting Deputy Director, United States Mint
Suzanne Crouch, Lieutenant Governor, Indiana
Tony Goben, Regional Director, for U.S. Senator Joe Donnelly
Brenda Goff, District Director, for U.S. Senator Todd Young
Carol Jones, District Director, for U.S. Congressman Larry Bucshon
Patricia Trap, Midwest Regional Deputy Director, National Park Service
Frank Doughman, Superintendent, George Rogers Clark National Historical Park
Dan Ravellette, City Council Member, Vincennes, Indiana
Event highlights include performances by the George Rogers Clark Fife and Drum Corps and the Vogel Elementary School Choir. U.S. Mint Artistic Infusion Program artist Frank Morris, designer of the George Rogers Clark quarter, will also attend.
In addition, children aged 18 and younger receive one of the new quarters for free to commemorate the event.
The quarter ceremony's location details follow:
Date: Tuesday, November 14, 2017
Time: 10 a.m. (EST)
Location:
Riverfront Pavilion
102 N 2nd St.
Vincennes, IN 47591
The following map shows the site's location:
Coin Exchange
The coin exchange begins immediately after the ceremony. Anyone attending the ceremony can stand in line to trade cash for $10 rolls of the new quarters. There is a one-roll ($10) minimum and a 10-roll ($100) maximum.
National Park Movie Night
George Rogers Clark National Historic Park is promoting another National Park Movie Night. Scheduled to start 6:30 p.m. Nov. 9 at the park's Visitor Center, the two-hour presentation features the four other sites commemorated on quarters this year.
Coin Forum on Evening Prior to Quarter Ceremony
This coin forum offers everyone an opportunity to meet officials from the U.S. Mint and to learn more about U.S. coins and products. Questions are encouraged. Coin forums usually last about an hour.
Here are the coin forum's time and location details:
Date: Monday, November 13, 2017
Time: 6 p.m. (EST)
Location:
George Rogers Clark National Historical Park Visitor Center
401 S. 2nd St.
Vincennes, IN 47591
The following map shows the location of the park's visitor center:
U.S. Mint-Branded Rolls and Bags of Quarters
Also on Monday, Nov. 13, starting at noon ET, the United States Mint will begin selling George Rogers Clark quarters directly to the public. Product options include U.S. Mint-branded 40-coin rolls, 2-roll sets, 3-roll sets, and 100-coin bags at prices ranging from $18.95 to $46.95. They will be available for order online at catalog.usmint.gov. These product releases will also be covered here on CoinNews.
2017 Quarters and Collector Products
The U.S. Mint's series of America the Beautiful Quarters® debuted in 2010 and will last until 2021. Every year five unique designs appear that feature a national park or other national site within the United States or its territories.
In February, the quarter honoring Effigy Mounds National Monument in Iowa made its debut. It was followed in March with a quarter for the Frederick Douglass National Historic Site in Washington, D.C. The third quarter, depicting Ozark National Scenic Riverways in Missouri, launched in June. The fourth quarter celebrating New Jersey's Ellis Island National Monument debuted in late August.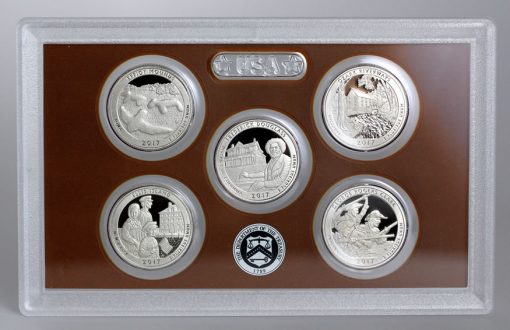 The U.S. Mint also offers special collectible products with quarters. In January, proof versions of all five 2017 quarters launched for $14.95. These coins feature frosted designs on mirror-like backgrounds. Sales of proof editions in silver started on Feb. 16 for $31.95. This year's uncirculated set of quarters was released on April 10 for $12.95. Uncirculated quarters look most like those found in circulation, but have sharper contrast and are more brilliant.