In a few days, the United States Mint and the National Park Service will officially present the quarter commemorating the Frederick Douglass National Historic Site in Washington, D.C. This year's second quarter ceremony takes place at the site on Tuesday, April 4.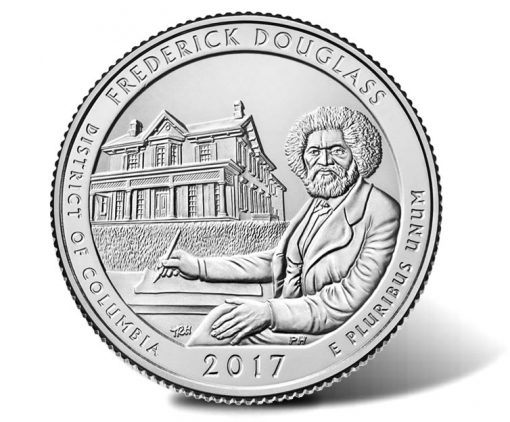 There is also a coin forum the day before the ceremony as well as a coin exchange immediately after the ceremony. All three events are free, and the public is encouraged to attend.
Frederick Douglass quarters enter circulation on Monday, April 3, but it can take months, possibly years, before they'll appear regularly in change. One reason for this is Federal Reserve Banks distribute coins to financial institutions without regard to coin designs. So, the ceremony presents an early opportunity to get this second of five 2017-dated quarters. The United States Mint brings up another by selling them in rolls and bags.
Frederick Douglass Quarter Launch Ceremony – Time and Location
Quarter ceremonies are special events for locals, coin collectors, and children. They usually last 30 to 40 minutes, while various speakers provide background about the historical site, local entertainers perform, and official dignitaries talk about the new coin and hand out free ones to school-aged children.
Highlights scheduled for this particular ceremony include special recognition of Thomas Hipschen, the designer of the Frederick Douglass National Historic Site quarter, recitations by 2016 Frederick Douglass Oratorical Contest winners, and musical entertainment by the Washington Revels Jubilee Voices ensemble. Officials attending include:
Michael T. Reynolds, Acting Director, National Park Service
Dave Motl, Acting Principal Deputy Director, United States Mint
Tara D. Morrison, Superintendent, Frederick Douglass National Historic Site
Tristan Breaux, District Director, on behalf of U.S. Congresswoman Eleanor Holmes Norton
The ceremony's location details follow:
Date: Tuesday, April 4, 2017
Time: 10 a.m. (ET)
Location:
Frederick Douglass National Historic Site
1411 W Street SE, Washington, DC
The following map shows the site's location:
Coin Exchange
The coin exchange begins immediately after the ceremony and it is at the same venue. Attendees who stand in line can trade cash for $10 rolls of the new quarters. There is a one-roll ($10) minimum and a 10-roll ($100) maximum.
Coin Forum, Afternoon Prior to Quarter Ceremony
A forum hosted at the United States Mint will take place during the day prior to the ceremony. These forums give people a chance to learn more about the U.S. Mint and to ask questions about its products. Coin forums only last about an hour, and this one requires a reservation in order to attend.
Here are the coin forum's time and location details:
Date: Monday, April 3, 2017
Time: 3:00 – 4:00 p.m. (EDT)
Location:
United States Mint
801 9th Street NW, Washington, DC
**RSVP is required for the coin forum and entry into U.S. Mint building (ddawson@usmint.treas.gov).**
The following map shows the location of the Mint's Headquarters:
U.S. Mint-Branded Rolls and Bags of Quarters
Starting at noon ET on Monday, April 3, the U.S. Mint will sell Frederick Douglass National Historic Site quarters directly to the public in rolls and bags.
Options of products include Mint-branded 40-coin rolls, 2-roll sets, 3-roll sets, and 100-coin bags, at prices ranging from $18.95 to $46.95 and from facilities in Denver, Philadelphia and San Francisco. They will be available to order online at catalog.usmint.gov. These product releases will also be covered here on CoinNews.
2017 Quarters
The U.S. Mint's series of America the Beautiful Quarters® debuted in 2010 and will extend through 2021. Every year five unique designs appear, featuring a park or other national site within the United States or its territories.
In February, the quarter honoring Effigy Mounds National Monument in Iowa was released. The three upcoming 2017 quarters celebrate Ozark National Scenic Riverways in Missouri, Ellis Island (Statue of Liberty National Monument) in New Jersey, and George Rogers Clark National Historical Park in Indiana.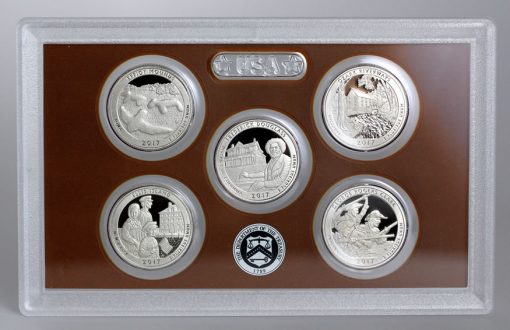 In January, the U.S. Mint released collector proof versions of all five 2017 quarters for $14.95. These coins feature frosted designs on mirror-like backgrounds. Sales of proof editions in silver started on Feb. 16 for $31.95. As always, stay tuned to CoinNews for information about related quarter releases.