The U.S. Mint and the U.S. Forest Service will officially introduce the America the Beautiful Quarter commemorating Shawnee National Forest in southern Illinois. This year's first quarter ceremony takes place at Southeastern Illinois College in Harrisburg, IL on Feb. 4, 2016.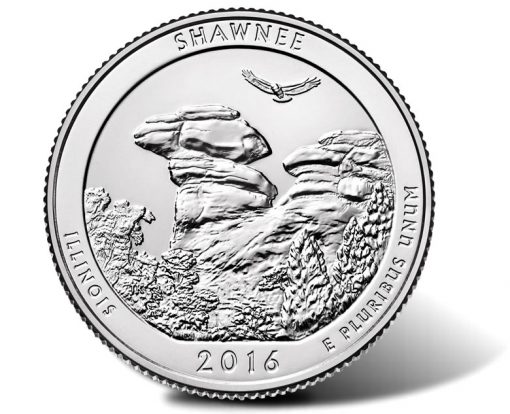 Surrounding the official launch ceremony is a coin forum the night before the main event and a coin exchange right after it. All three of these functions are free and open to the public.
Shawnee quarters will officially enter circulation on Feb. 1, 2016 but it can take months, sometimes years, before they'll regularly appear in pocket change because the Federal Reserve distributes coins to financial institutions without regard to specific design. The launch ceremony offers an early opportunity to get the first of five 2016 quarters, which is the 31st of 56 scheduled in the U.S. Mint's series of America the Beautiful Quarters.
Quarter Ceremony – Time and Location
Usually lasting between 30 and 40 minutes, official quarter launches are unique events for children, locals, and coin collectors. Formal dignitaries provide some historical background in short speeches, then they unveil the quarter and hand out free ones to school-aged children.
The event's location details follow:
Date: Thursday, February 4, 2016
Time: 10:00 a.m. (CT)
Location:
Southeastern Illinois College – Deaton Gymnasium
3575 College Road
Harrisburg, IL 62946
The following map shows the location of the school.
Coin Exchange
The coin exchange begins immediately after the ceremony. Banterra Bank will sponsor the event. Anyone can trade cash for $10 rolls of the new quarters. There is a one-roll ($10) minimum and a 10-roll ($100) maximum.
Coin Forum Evening Prior to Quarter Ceremony
A coin collector forum hosted by the United States Mint will take place the evening prior to the quarter ceremony. These forums offer opportunities to express views and ask questions about existing, new and upcoming United States Mint products. Coin forums usually last about an hour.
Here are the coin forum's time and location details:
Date: Wednesday, February 3, 2016
Time: 5-6 p.m. (CT)
Location:
Shawnee National Forest Headquarters
50 Hwy 145 South 
Harrisburg, IL 62946
The following map shows the location of the forest headquarters.
Rolls and Bags of Quarters
Another way to get Shawnee quarters is to buy them straight from the U.S. Mint. Beginning Feb. 1, the agency will offer them in 40-coin rolls, 2-roll sets, 3-roll sets and 100-coin bags, at prices ranging from $18.95 to $34.95. They will be available at catalog.usmint.gov. Coverage of these product releases will be offered here on CoinNews.net.
2016 Quarters
Introduced in 2010 and scheduled to last until 2021, the U.S. Mint's America the Beautiful Quarters® Program presents five unique designs each year. The Shawnee National Forest quarter marks the 31st issue. The next four 2016 quarters honor Cumberland Gap National Historical Park in Kentucky, Harpers Ferry National Historical Park in West Virginia, Theodore Roosevelt National Park in North Dakota, and Fort Moultrie in South Carolina.