Mark your calendars for June 24 and 25. North Carolina's Blue Ridge Parkway quarter is coming. Officials from the National Park Service and United States Mint will formally introduce the quarter on Thursday, June 25.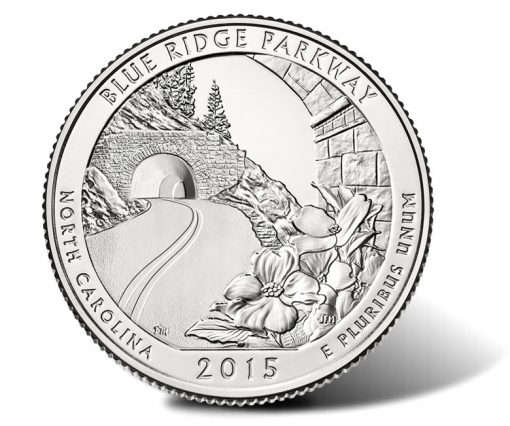 Surrounding the official launch ceremony are a coin forum held the night before and a coin exchange right after it. These events are free and open to the public.
Wednesday's ceremony will offer attendees an early opportunity to acquire Blue Ridge Parkway quarters, the third of five 25-cent designs for 2015 and the 28th release in the series of America the Beautiful Quarters. They actually begin their journey into general circulation in a few days, on June 8, but it'll likely take anywhere from months to years before they commonly show up in pocket change. However on Monday, June 29, Blue Ridge Parkway quarters will also be available from the U.S. Mint in several bag and roll products.
Quarter Ceremony – Time and Location
Lasting around 30 to 40 minutes, quarter launch ceremonies are unique events for children, locals, and coin collectors. Official dignitaries from the Blue Ridge Parkway, the United States Mint, and the state of North Carolina will provide some historical background via short speeches, and then they will unveil the quarter and hand out free ones to those who are under 18 years old.
The ceremony's location details follow:
Date: Thursday, June 25, 2015
Time: 10 a.m. (ET)
Location:
Pack Square Park
121 College Street
Asheville, NC 28801
The following map shows the location of Pack Square Park.
Coin Exchange
Always a favorite for those attending, the coin exchange starts right after the ceremony. A local bank sets up tables at the ceremony and offers a venue to swap cash for $10 rolls of the new coins. There is a one-roll ($10) minimum and a 10-roll ($100) maximum.
Coin Forum Prior to Quarter Ceremony
A coin forum hosted by the United States Mint will take place the evening prior to the quarter ceremony. These forums offer opportunities to express views and ask questions about existing, new and upcoming U.S. Mint products. Coin forums usually last about an hour, depending on the amount and type of questions.
Here are the coin forum's time and location details:
Date: Wednesday, June 24, 2015
Time: 7 – 8 p.m. (ET)
Location:
Blue Ridge Parkway Visitor Center
Parkway Milepost 384
195 Hemphill Knob Road
Asheville, NC 28803
(828) 298-5330
The following map shows the location of the Visitor Center.
2015 Quarters
The United State Mint's program of America the Beautiful Quarters presents five unique designs each year. Upcoming quarters for 2015 include those commemorating Bombay Hook National Wildlife Refuge in Delaware and Saratoga National Historical Park in New York. Nebraska's Homestead National Monument Quarter and Louisiana's Kisatchie National Forest Quarter appeared earlier this year.
When Blue Ridge Parkway quarters become available from the U.S. Mint on Monday, June 29, production options will include 40-coin rolls, 2-roll sets, 3-roll sets and 100-coin bags, at prices ranging from $18.95 to $34.95. They will be available at catalog.usmint.gov. Coverage of these product releases will be offered here on CoinNews.net.