Now available is a United States Mint proof set with 90% silver quarters honoring national sites in Nebraska, Louisiana, North Carolina, Delaware and New York. Officially dubbed 2015 America the Beautiful Quarters Silver Proof Sets, they went on sale earlier today for $31.95.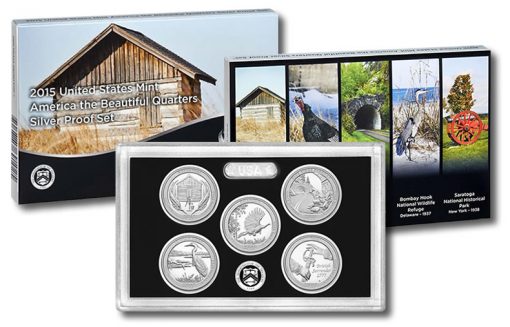 Pricing today is the same as a year ago following three straight years at $41.95. Coins of the silver proof set include:
2015-S Homestead National Monument Quarter for the national site in Nebraska
2015-S Kisatchie National Forest Quarter for the site in Louisiana
2015-S Blue Ridge Parkway Quarter for the national site in North Carolina
2015-S Bombay Hook National Wildlife Refuge Quarter for the site in Delaware
2015-S Saratoga National Historical Park Quarter for the national site in New York
Designs emblematic of the sites are depicted on coin reverses (tails side) while the other sides share the familiar portrait of George Washington.
Each of the five quarters in this year's set is struck in collector proof quality at the United States Mint facility in San Francisco, just like the non-silver version released on Feb. 3.
Specifications for the quarters include a diameter of 0.955 inches, or 24.3 millimeters, and a weight of 6.250 grams composed of 90% silver and 10% copper. The five-coin set's total silver weight is 0.904 troy ounces. Based on the today's London silver fixing of $16.34 an ounce, each proof set has an approximate melt value of $14.77. Keep in mind that significant fluctuations in the silver market can lead to pricing changes for U.S. Mint products with silver.
This set is issued as the sixth annual release in the America the Beautiful Quarters® Program. The series debuted in 2010 with five program coins issued annually with each depicting a different reverse design honoring a national site.
Ordering
2015 America the Beautiful Quarters Silver Proof Sets are available from the U.S. Mint's annual proof sets page or by calling 1-800-USA-MINT (872-6468). Standard domestic shipping is $4.95.
No mintage, ordering or household limits apply to this release.