Today, April 8, the United States Mint began selling 2014 Shenandoah National Park Quarters Three-Coin Sets. The regular price is $9.95 per set, while the subscription price is 10% cheaper at $8.95 per set.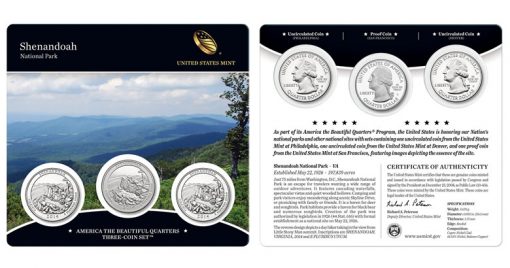 This latest America the Beautiful Quarter Three-Coin Set is the second one this year and the 22nd in the series. Coins within it honor the park in Virginia, about an hour drive from Washington, D.C. Shenandoah quarters entered circulation beginning on March 31, 2014 with an official launch ceremony this past Friday.
Each Three-Coin Set has two uncirculated quarters and one proof strike that are mounted on a durable yet illustrative display card. Specifically, the coins are:
one uncirculated 2014-P Shenandoah quarter,
one uncirculated 2014-D Shenandoah quarter, and
one proof 2014-S Shenandoah quarter
As seen above, the front of the display card shows a picturesque image of the park's wilderness on its front, and a brief description of the park and the coins are on the back along with a U.S. Mint Certificate of Authenticity.
Designs of Shenandoah Quarters
Shenandoah quarter obverses have the 1932 portrait of George Washington by John Flanagan, as do all America the Beautiful Quarters. Surrounding inscriptions read, "UNITED STATES OF AMERICA," "LIBERTY," "IN GOD WE TRUST" and "QUARTER DOLLAR." A one-letter mint mark is also on the obverse. "D" is for the U.S. Mint facility in Denver, CO; "P" is for the U.S. Mint facility in Philadelphia, PA; and "S" is for the U.S. Mint facility in San Francisco, CA.
Reverses depict the view from Little Stony Man summit with a day hiker posing near the edge. The image was designed and sculpted by Phebe Hemphill. Inscriptions around the scene read, "SHENANDOAH," "VIRGINIA," "2014" and "E PLURIBUS UNUM."
Ordering Shenandoah Quarters Three-Coin Sets
Customers interested in Shenandoah National Park Quarters Three-Coin Sets may purchase them from the United State Mint's online catalog, right here, or by calling 1-800-USA-MINT (872-6468). No mintage or household order limits are in place.
More Quarters Three-Coin Sets will be coming in 2014. They honor Arches National Park in Utah, Great Sand Dunes National Park in Colorado, and Everglades National Park in Florida. The one with Arches National Park Quarters is scheduled for release on June 24, 2014.
10% Subscription Discount
America the Beautiful Quarters Three-Coin Sets are part of the fourteen products eligible for the U.S. Mint's 10% Subscription Discount. To sign up and receive future sets automatically, visit the Mint's online subscription page, located here.