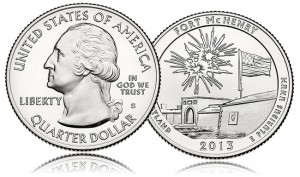 An official release ceremony for the Fort McHenry quarter will be held Friday, September 13, at 10 a.m. Eastern Time. A coin exchange will follow immediately after the ceremony.
Issued as the nineteenth America the Beautiful Quarter and the fourth of five for this year, 2013 Fort McHenry National Monument and Historic Shrine quarters commemorate the national site found in Baltimore, Maryland. The coin began its journey into circulation on Aug. 26, 2013, the same day that the United States Mint began accepting orders for bags and rolls of them.
The quarter ceremony kicks off a series of special events planned for the Star-Spangled Banner Defenders' Day Weekend.
Defenders Day, a scene of which is depicted on the Fort McHenry quarter, is Baltimore's oldest holiday. It honors the successful defense of the city from an invading British force during the War of 1812 and Francis Scott Key's writing of "The Star-Spangled Banner," which became the national anthem of the United States.
What to Expect at Fort McHenry Quarter Ceremony
Treasurer of the United States Rosie Rios will represent the United States Mint at this launch ceremony.
Most coin release ceremonies last around 30 to 40 minutes, and are well-suited for children who can get a free, shiny new quarter. They offer entertainment and historical commentary from local dignitaries. Special guests at this U.S. Mint-sponsored ceremony include:
U.S. Senator Ben Cardin
U.S. Congressman Elijah Cummings
U.S. Congressman C.A. "Dutch" Ruppersberger
U.S. Congressman John Sarbanes
Mayor Stephanie Rawlings-Blake
Fort McHenry National Monument and Historic Shrine Superintendent Tina Cappetta
Immediately after the ceremony, attendees can exchange cash for $10 rolls of the coins, courtesy of M&T Bank.
Fort McHenry Quarter Ceremony Information
Date, time and location details for the Fort McHenry quarter ceremony follow:
Date: Friday, September 13, 2013
Time: 10:00 a.m. ET
Location:
Fort McHenry National Monument and Historic Shrine
2400 East Fort Avenue
Baltimore, MD 21230
America the Beautiful Quarters
America the Beautiful Quarters® honor national parks and other national sites throughout the U.S. and its territories. The series was introduced in 2010 and will last until at least 2021 for a total of 56 coins and different designs.
In the program, the United States Mint introduces five different quarter designs each year. This year's designs commemorate Perry's Victory and International Peace Memorial of Ohio, Great Basin National Park of Nevada, Fort McHenry National Monument and Historic Shrine of Maryland, and Mount Rushmore National Memorial of South Dakota.
The final quarter of the year depicting Mount Rushmore has a scheduled release date of November 4, 2013 and a ceremonial launch date of November 6, 2013. There will also be a coin forum on the evening prior to the ceremony. Further details about the coin forum and ceremony will be made available later on CoinNews.net.