Perry's Victory and International Peace Memorial quarters will make an official appearance Saturday, April 20, 2013. That is when representatives from United States Mint and National Park Service will give the Perry's Victory quarter its ceremonial launch.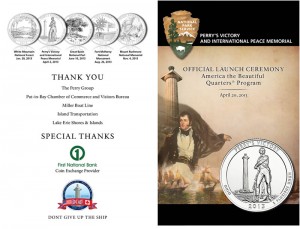 The coin, the second released this year and the 17th overall in the America the Beautiful Quarters® Program, had a different type of debut earlier this month. On April 1, 2013, Perry's Victory quarter products went on sale through the U.S. Mint and the quarters began their journey to enter circulation for commerce.
Perry's Victory Quarter Ceremony Time and Location
Open to the public and free, the launch ceremony will be held at the Memorial in the Village of Put-In-Bay at 11:30 a.m. Eastern Time (ET). It's a great event for children, and many will be there. Put-in-Bay Brownie & Northeast Ohio Girl Scout Troops will present the Pledge of Allegiance.
Helping to officially introduce the quarter to the public will be:
Marcy Kaptur, U.S. Congresswoman
Marc Landry, Acting Associate Director of Sales and Marketing, United States Mint
Ruth Scarpelli, Mayor, Put-In-Bay
Blanca Alvarez Stransky, Superintendent, Perry's Victory and International Peace Memorial
Greg Peiffer, President and General Manager, WPIB/WPCR Radio – Master of Ceremonies
Coin Exchange
Quarter launch ceremonies tend to last 30 – 40 minutes. Immediately following, a coin exchange begins where anyone can swap cash for $10 rolls of shiny, new Perry's Victory quarters. The coins will be provided by First National Bank.
Coin Forum on April 19
Also open and free to the public is a coin forum hosted by the United States Mint. The forum will take place tonight from 5:30 – 6:30 p.m. ET at:
Lake Erie Shores and Islands Welcome Center-West
770 SE Catawba Road (State Route 53)
Port Clinton, OH 43452
Coin collectors in particular enjoy these coin forums as they can ask questions and learn about upcoming U.S. Mint coin programs.