At noon ET on Monday, November 5, 2012, the United States Mint released bags and rolls of 2012 Denali National Park and Preserve Quarters.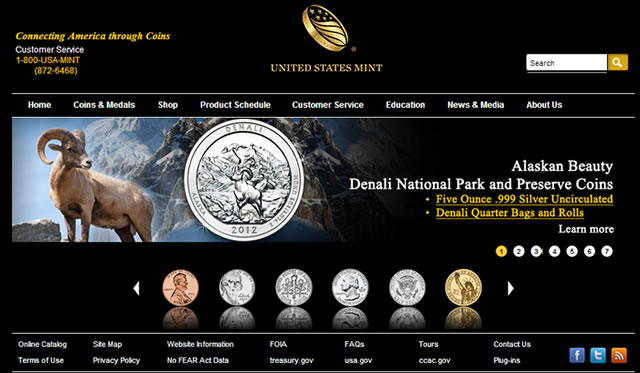 Products include circulation quality coins from facilities in Philadelphia, Denver and San Francisco that will bear respective mint marks of 'P', 'D' and 'S'.
These releases coincide with the Federal Reserve Bank system's start of distributing the Denali National Park quarters into commerce via local banks. Only coinage from Philadelphia and Denver, however, are used for business transactions, and it could take several months before the newest ones land in people's pocket. Coins from San Francisco are minted specifically for collectors and are sold to the public directly from the U.S. Mint.
As the fifth and last 2012 issue in the America the Beautiful Quarters® Program and the fifteenth overall, Denali quarters honor the popular national park and preserve located in Alaska. Between the years of 2010 and 2021, the coin series will feature five new quarters a year — each having a different reverse design, until a national site located every state, U.S. territory the District of Columbia is represented.
Bags, Rolls and Two-Roll Set Pricing
Three choices of 100-coin bags, containing quarters minted at either Philadelphia, Denver or San Francisco, are for sale at $34.95 per bag. The coins are loose inside the bag.
Also for sale are the two-roll sets, with one 40-coin roll of Philadelphia minted quarters and one 40-coin roll of Denver minted quarters. Its price is $32.95.
Another option is the single 40-coin roll from San Francisco for $18.95.
Ceremonial Release
The U.S. Mint and National Park Service scheduled a quarter release ceremony for Thursday, November 15, 2012. This official event will be held at the Tri-Valley Community Center in Healy, Alaska beginning at 10 AM Alaska time. The address is .5 Mile Healy Spur Road.
A coin exchange will follow the ceremony where attendees may exchange cash for rolls of the new quarter from a local bank.
During the evening before the ceremony, the U.S. Mint will host a coin forum for the public. It will be from 6 PM until 7 PM at the Tri-Valley Community Library, located at 400 Suntrana Road, in Healy.
Denali National Park and Preserve Quarter Designs
Designs chosen for America the Beautiful Quarters go through a long process before they are selected with the main criteria being the image must be emblematic of the national site. That is certainly the case with the Denali quarter. On the reverse, a Dall Sheep is portrayed in the foreground with a view of Mount McKinley behind it. Inscriptions include DENALI, ALASKA, 2012 and E PLURIBUS UNUM.
Denali National Park and Preserve is known for its roaming wildlife and the Dall sheep are prevalent in the mountains of the park. As for Mount McKinley, it cannot be missed since it is the tallest mountain in North America at 20,320 feet. In fact the park's name was once Mount McKinley National Park before it expanded from 2 million acres to 6 million acres in 1980.
On the quarter's obverse is a portrait of George Washington by John Flanagan. It is the same image that has been seen on the quarter dollar since 1932. Surrounding Washington are the inscriptions UNITED STATES OF AMERICA, LIBERTY, IN GOD WE TRUST, and QUARTER DOLLAR.
US Mint Products with Denali National Park and Preserve Quarters
Several other numismatic products by the United States Mint contain Denali National Park quarters. They are struck in either proof or uncirculated quality, with a few exceptions. Below is a list of sets containing the new quarter that have already been released.
2012 America the Beautiful Quarters Silver Proof Set (January 10)
2012 America the Beautiful Quarters Proof Set (January 17)
2012 America the Beautiful Quarters Uncirculated Set (April 24)
2012 Proof Set (May 7)
2012 Mint Set (May 21)
2012 Silver Proof Set (June 4)
Also launching today is the Denali National Park 5 Oz Silver Uncirculated Coin, which is an extra large duplicate of the quarter. The silver uncirculated coin has five ounces of .999 fine silver and a three inch diameter.
The uncirculated strike is packaged for collectors and sold directly from the Mint. A bullion version was released in October to a network of Authorized Purchasers who resell the coins. The bullion version is investment grade quality and does not have the 'P' mint mark.
Later this week, on Thursday, the U.S. Mint will launch the 2012 America the Beautiful Quarters Circulating Set. In it are 10 coins, all in circulating quality, with 5 minted in Philadelphia and 5 from Denver.
Order Information for US Mint Bags and Rolls
Collectors may order bags and rolls of the new quarters via the United States Mint website, http://www.usmint.gov/catalog, or by calling its toll free number, 1-800-USA-MINT (872-6468). All domestic orders will have an additional $4.95 shipping and handling fee.
There are no household ordering limits, and a mintage limit has not been published.
America the Beautiful Quarters Program To Date
As mentioned earlier, the Denali National Park quarters are the fifteenth in the America the Beautiful Quarters series. Several product options of past releases are still available from the U.S. Mint and various subscriptions ensure buyers of future issues in the series.
The coins released in 2010 featured:
Hot Springs National Park in Arkansas
Yellowstone National Park in Wyoming
Yosemite National Park in California
Grand Canyon National Park in Arizona
Mount Hood National Forest in Oregon
In 2011, the honored locations were:
Gettysburg National Military Park in Pennsylvania
Glacier National Park in Montana
Olympic National Park in Washington
Vicksburg National Military Park in Mississippi
Chickasaw National Recreation Area in Oklahoma
2012 America the Beautiful Quarters are emblematic of these sites:
El Yunque National Forest in Puerto Rico
Chaco National Historical Park in New Mexico
Acadia National Park in Maine
Hawai'i Volcanoes National Park in Hawaii and
Denali National Park and Preserve in Alaska
Designs for 2013 are expected to be unveiled later this year. They will represent the following locations:
White Mountain National Forest in New Hampshire
Perry's Victory and International Peace Memorial in Ohio
Great Basin National Park in Nevada
Fort McHenry National Monument and Historic Shrine in Maryland
Mount Rushmore National Memorial in South Dakota
The order in which each quarter is featured has been based on the order that places were first established as a national park or site.