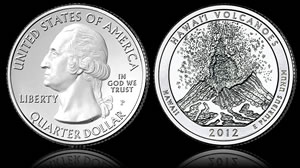 It was a busy August for the United States Mint, and now just one product release day remains.
Starting Monday, August 27, collectors may add 2012 P & D Hawai'i Volcanoes National Park Quarters to their collections. The coin is the fourth of five 2012-dated America the Beautiful Quarters.
The U.S. Mint is offering Hawaii quarters in bags and rolls on the same day Federal Reserve Banks begin distributing them through the banking system and into circulation.
Product options direct from the U.S. Mint will be available through this online product page.
For the 100-coin bags, buyers will have the choice of quarters from either the U.S. Mint facility in Philadelphia or Denver at $34.95 each. Two-roll sets will contain one roll of 40 quarters from each location, totaling 80 coins, and will be priced $32.95 each.
Sales begin at 12:00 noon ET on the release date. Besides online ordering, customers may make purchases directly from the bureau's Customer Service department at 1-800-USA-MINT (872-6468).
Below is a list of the few remaining items on the United States Mint schedule of products for August and September.
Upcoming US Mint Numismatic Product Releases (August – September)
| | | |
| --- | --- | --- |
| 8/27/2012 | Hawaii Volcanoes National Park Quarter Two-Roll Sets | $32.95 |
| 8/27/2012 | Hawaii Volcanoes Quarter 100-coin Bags, Philadelphia | $34.95 |
| 8/27/2012 | Hawaii Volcanoes Quarter 100-coin Bags, Denver | $34.95 |
| 09/04/2012 | Volcano Quarters Three-Coin Set | $9.95 |
| 09/06/2012 | 2012 Annual Uncirculated Dollar Coin Set | TBD |
| 09/24/2012 | Hawaii Volcanoes National Park 5 Ounce Silver Uncirculated Coin | $204.95 |