Early next week will be busy with three 25-cent product releases. The United States Mint plans to offer up products with the third design in the America the Beautiful Quarters® series which depicts Main's Acadia National Park.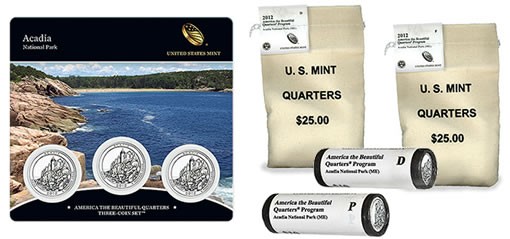 Beginning on Monday, June 11, 2012, the U.S. Mint will launch the 2012 Acadia National Park Quarter in bags and rolls. It coincides with the launch of the Acadia quarter into circulation via the Federal Reserve Banking System.
Once the America the Beautiful Quarter bags and rolls go on sale, buyers may visit this U.S. Mint online product page to make purchases. The 100-coin bags from Philadelphia and the 100-coin bags from Denver are priced at $34.95 each. The two-roll sets having 80 coins, half from each facility, are $32.95 each.
Immediately following that release, on Tuesday, June 12, 2012, the U.S. Mint will place on sale the Acadia Quarters Three-Coin Set for $9.95. Similar sets in this series have proven popular with collectors, as more than 10,000 of each have been selling during their respective opening week. Making up the set is one proof quarter from San Francisco, one uncirculated version from Philadelphia, and one uncirculated strike from Denver.
Upon its launch, collectors will be able to place orders on the U.S. Mint website page located here.
As with similar product launches, these new items will be available on their respective release dates with a 12:00 noon ET start time. In addition to online orders, purchases may be made using the bureau's Customer Service phone line at 1-800-USA-MINT.
The table below lists the remaining product release schedule for the month of June from the United States Mint.
Upcoming US Mint Numismatic Product Releases for June
| Release Date | U.S. Mint 2012 Numismatic Product | Product Price |
| --- | --- | --- |
| 6/11/2012 | Acadia America the Beautiful Quarter Two-Roll Sets | $32.95 |
| 6/11/2012 | Acadia America the Beautiful Quarter in Bags, Philadelphia | $34.95 |
| 6/11/2012 | Acadia America the Beautiful Quarter in Bags, Denver | $34.95 |
| 6/12/2012 | Acadia Quarters Three-Coin Set | $9.95 |
| 6/19/2012 | Grover Cleveland (First Term) Presidential $1 Coin Cover | $19.95 |
| 6/21/2012 | 2012-S El Yunque Quarters Bags | $34.95 |
| 6/21/2012 | 2012-S El Yunque Quarters Rolls | $18.95 |
| 6/26/2012 | 2012 Presidential $1 Four-Coin Sets | TBD |
| 6/28/2012 | 2012 Uncirculated American Eagle Gold Coin | TBD |