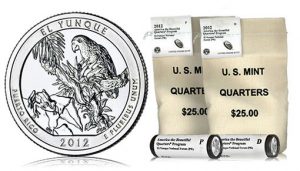 Ceremony launch details for the El Yunque National Forest Quarter were published today by the United States Mint. The event is scheduled to take place at the El Portal Rain Forest Visitor Center on Wednesday, March 14, at 10:00 a.m. AT.
The El Yunque quarter, which is the first in 2012 and the eleventh in the America the Beautiful Quarters® series, honors the national forest located on the Caribbean Island of Puerto Rico.
Representing the U.S. Mint at next Wednesday's ceremony will be Treasurer of the United States Rosie Rios. Also participating will be Resident Commissioner Pedro Pierluisi, Governor Luis Fortuño, El Yunque National Forest Supervisor Pablo Cruz and Channel 6 TV's Maria Falcon.
Launch ceremonies typically last from 30-40 minutes and are followed by coin-exchange opportunities. Those so inclined may swap cash from $10 rolls of the coins at face value.
In a bit of a change-up, the El Yunque quarter ceremony comes at different timing than previous ones. Official launch events are usually scheduled for the day of or very close to a quarter's circulation release. The coin was actually launched into circulation via Federal Reserve Banks on January 23, 2012.
Several products featuring El Yunque National Forest Quarters are available directly from the U.S. Mint today at www.usmint.gov. These include:
El Yunque Quarter Bags and Rolls
El Yunque Quarter Three-Coin Sets
America the Beautiful Quarters Proof Sets
America the Beautiful Quarters Silver Proof Sets
Additional quarters and related products will be available in the coming months. Forthcoming 2012 quarters include those honoring Chaco Culture National Historical Park in New Mexico, Acadia National Park in Maine, Volcanoes National Park in Hawaii and Denali National Park in Alaska. (See this year's quarters images.)
Between 2010 and 2021, a total of 56 different national parks and national sites will be celebrated in each U.S. state, territory and the District of Columbia through the America the Beautiful Quarters Program. Designs representative of selected sites have been and will be depicted on the reverse side of the honoring quarters and featured on companion five ounce bullion and uncirculated America the Beautiful Silver Coins.