The United States Mint placed the 2011 America the Beautiful Quarters Circulating Coin Set on sale today, Tuesday, November 29, at 12:00 PM (noon) ET for $9.95, the same price as last year's circulating coin set.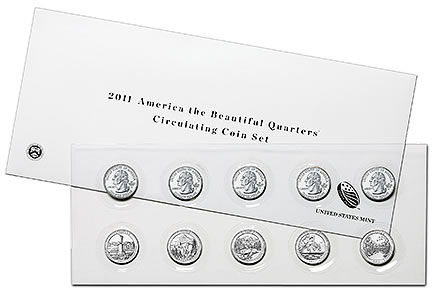 The product is the last of four unique annual sets that solely contain all five of the 2011 America the Beautiful Quarters®.The earlier sets were the 2011 America the Beautiful Quarters Proof Set, the 2011 America the Beautiful Quarters Silver Proof Set, and the 2011 America the Beautiful Quarters Uncirculated Set.
Listed for only $9.95, the 2011 circulating coin set is the most economical. It features ten coins minted in circulating quality — the same level of quality one would expect to see if opening a new roll of quarters received from the bank. The packaging was cleverly manufactured to allow the quarters to be easily removed and placed into albums or other numismatic accessories.
[Update: From their release on Tuesday through to the following Monday, coin collectors purchased a total of 10,089 sets. The previous year's set's opened at 5,684 during their first three days of availability. As of the same Monday (December 5), the 2010-dated set sales stood at 23,089.]
Not all banks carry every quarter design from both mint facilities, which makes finding the new America the Beautiful Quarters more difficult. The economy also requires fewer coins in daily transactions compared to the era during the 50 State Quarters Program. Therefore, there are fewer new quarters circulating. The 2011 circulating coin set offers buyers the opportunity to get each new quarter that is produced in the Philadelphia Mint and Denver Mint. These include:
The reverses also contain inscriptions of the year of issue, E PLURIBUS UNUM, the name of the celebrated site and the state where it is located. The coins honor the four national parks in the states of Pennsylvania, Montana, Washington, and Mississippi while the last national site is located in the state of Oklahoma.
Each obverse bears an image of George Washington, a digitally enhanced version that has been featured since 1932 and was designed by John Flanagan. The obverse also contains the inscriptions of UNITED STATES OF AMERICA, LIBERTY, IN GOD WE TRUST and QUARTER DOLLAR.
The 2011 America the Beautiful Quarters Circulating Coin Set may be ordered from the United States Mint website (http://catalog.usmint.gov/), or its toll free number 1-800-USA-MINT (872-6468). Future sets and related products are also available by subscription via the United States Mint Online Subscription Program.
The America the Beautiful Quarters series debuted in 2010 and is scheduled to last until the final quarter launches in early 2021. A new quarter with a new reverse design will be issued at a rate of five per year to honor one national site in each U.S. state and territory and in the District of Columbia.