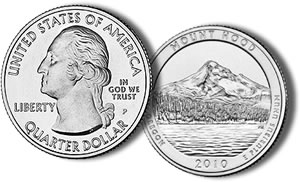 This month the Mount Hood National Forest Quarter for Oregon will launch, completing this year's release of all five 2010 America the Beautiful Quarters.
The Mount Hood quarter will enter circulation beginning November 15, 2010 — the U.S. Mint will also offer bags and rolls of the coins on the same day, and the 25-cent piece will be officially revealed November 17, 2010, in a ceremony at World Forestry Center.
The quarter's reverse, designed and sculpted by Phebe Hemphill, features a view of Mount Hood with Lost Lake in the foreground.
Mount Hood National Forest, so named in 1924, was originally called Oregon National Forest after the merging of Bull Run Forest Reserve and Cascade National Forest in 1908. It is located 20 miles east of Portland, Oregon, and encompasses more than one million acres, with 189,200 acres designated a wilderness which includes Mount Hood.
The United States Mint will rollout the quarters in bags and rolls through its website (http://www.usmint.gov/) at noon ET on November 15. Two-roll sets, which include 40 coins minted from Denver and 40 from struck in Philadelphia, are priced at $32.95. The 100-coin bags may be purchased from either location for a price of $35.95.
The Mount Hood Quarter Release Ceremony will take place at 10:30 a.m. Pacific Time (PT) at the World Forestry Center located at 4033 SW Canyon Road in Portland. Children in attendance will receive a free quarter while adults may exchange cash for $10 rolls.
Additionally, the U.S. Mint is hosting a public forum for coin enthusiasts on November 16, from 5:30 to 6:30 p.m. PT at Cheatham Hall, World Forestry Center. The coin forum is an excellent opportunity to ask Mint officials about current and upcoming coins and events.